Rev. Dr. Frank A. Thomas is taking initial steps towards his planned retirement in December 2025. As part of this transition, Dr. Thomas will be passing the baton of leadership for the PhD Program in African American Preaching and Sacred Rhetoric to his chosen successor, Rev. Dr. Courtney Buggs, and will remain involved by advising students, teaching coursework, and providing support to Dr. Buggs. He will also step into a new role as Director of the Compelling Preaching Initiative at Christian Theological Seminary. In addition, CTS announces Dr. Nick Peterson (Assistant Professor of Homiletics and Worship) as the new Assistant Director of the PhD Program. These transitions will be effective July 1, 2023. 
"I believe great leaders carefully plan for their succession, and enthusiastically bless and endorse the next generation of leadership. There is a transition, but I am not done yet because the new Compelling Preaching Initiative has grown directly out of the success of the PhD program, and through it we will be able to impact exponentially more preachers and communities as we continue to proclaim the beauty and the power of African American Preaching and Sacred Rhetoric," shares Thomas. 
The PhD Program in African American Preaching and Sacred Rhetoric would not exist without the visionary leadership and foresight of Dr. Thomas. A renowned homiletician and published author, Thomas served with distinction as the senior pastor for two remarkable congregations (New Faith Baptist Church in Matteson, IL and Mississippi Boulevard Christian Church in Memphis, TN) before joining CTS. Dr. Thomas built the PhD program from the ground up, establishing it to ignite a renaissance to revive Christianity in America in the 21st century. CTS President Dr. David M. Mellott shares, "Dr. Thomas has become integral to Christian Theological Seminary, both as a member of our community and as a part of our very identity. His efforts to invest in the next generation of preachers, both as practitioners and as scholars, are unprecedented in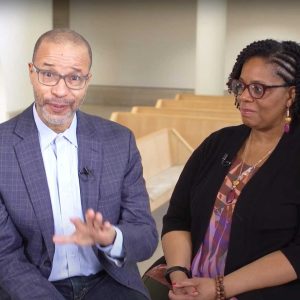 scope and impact. There are few individuals who have worked as tirelessly as he has to spread awareness of the beauty of African American Preaching and Sacred Rhetoric and to teach its methods to preachers around the world."  
Accredited by the Association of Theological Schools in 2016, the PhD Program welcomed its inaugural cohort of students in January 2017. The program's mission is to cultivate practitioner-scholars who are deeply connected to the church and the academy, equipped with a critical understanding of the history of African American preaching and other sacred rhetoric forms in the United States. It also focuses on the theologies that inform this history and practice, the distinctive skills involved in African American preaching and sacred rhetoric, and the transformative gifts these traditions can offer to the wider global church. With 26 students currently enrolled across three cohorts, the program is on track to produce its first graduates in the coming year. 
Rev. Dr. Courtney V. Buggs joined the CTS faculty in 2019, as a Louisville Postdoctoral Fellow.  In 2021 she was appointed to the CTS regular faculty as Assistant Director of the PhD program in African American Preaching and Sacred Rhetoric, and Assistant Professor of Homiletics. Buggs' interest in the study of preaching began as she served faith communities in the United States and abroad, across Pentecostal, Methodist, and Baptist traditions and in multi-faith military chapel settings.  Her research interests include ecumenical preaching practices, women and preaching, womanism, and critical pedagogy.  Buggs has published journal articles and a book chapter, all related to preaching.  She has also published denominational resources and writes theological reflections for local churches. Prior to entering formal theological education, Buggs served in the United States Air Force for almost 22 years as a commissioned officer.  A graduate of Louisiana Tech University's ROTC program, she earned a BS in Electrical Engineering Technology.  Buggs went on to earn an MPA from University of Oklahoma, a Master's in Military Operational Art and Science from Air University, an MDiv from Candler School of Theology, and a PhD in Religion-Homiletics from Emory University. 
When asked about Dr. Buggs taking the reins of the PhD program, Dr. Thomas shared, "The first time Rev. Dr. Buggs preached in the CTS Chapel, the place shook from the power of her words and ministry. I want the world to know the high quality and character of the person that this baton of leadership is being handed to and how excited I am to see her success and the program's continued growth. I am absolutely confident that Dr. Buggs will take things to the next level and the program will live on for generations and generations to come." 
Dr. Nick Peterson will become Assistant Director of the PhD Program. Peterson received his PhD from the Graduate Division of Religion at Emory University and holds a Bachelor of Arts from Franklin & Marshall College in Africana Studies and Business Management as well as a Master of Divinity from Lancaster Theological Seminary. He has taught courses on religion, philosophy, worship, theology, preaching, and race at schools including Morehouse College, Lancaster Theological Seminary, and Penn State University – Berks. His dissertation, On Being an Issue of Delores: A Meditation on Black Faith in an Antiblack World, explores how black faith engenders intramural care practices, which he refers to as black-on-black care. He suggests this transformative care contends with and sometimes exceeds the constraints of antiblackness. 
The upcoming retirement of Rev. Dr. Frank A. Thomas marks the beginning of an exciting new chapter. His transition from Director of the PhD Program to Director of the Compelling Preaching Initiative is demonstrative of his commitment to remain visionary and creative to the very end of his illustrious career. The CTS community, forever indebted to his transformative leadership, celebrates this transition and eagerly anticipates the wealth of knowledge and guidance he will continue to bestow upon our students. 
Dr. Thomas recently interviewed Dr. Buggs for the Legacy Preaching Series. During the conversation, the two also discuss Dr. Thomas' retirement plans and how Dr. Buggs' experience led her to this new role. You can watch the full interview video below.  
If you would like to send a note of congratulations to Dr. Thomas and/or Dr. Buggs, we invite you to do so by emailing phdprogram@cts.edu