Opening Worship – August 24th, 2023 @ 11:30 a.m.
Dr. Francisco Lozada Preaching
Scripture: Exodus 1:1:22 & Luke 6:17-26
Join us in person at Sweeney Chapel or on YouTube via the Livestream!
Dr. Francisco Lozada, Jr.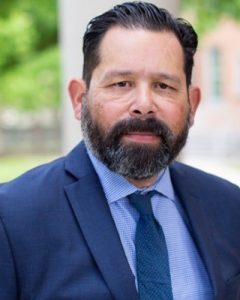 Dr. Francisco Lozada, Jr.  joined Christian Theological Seminary as the Vice President of Academic Affairs and Dean of the Faculty effective July 1, 2023.  Prior to joining CTS, Dr. Lozada served at Brite Divinity School in Fort Worth, Texas, as the Charles Fischer Catholic Professor of New Testament and Latinx Studies and the Director of the Borderlands Institute and Latinx Studies Program, where he directed several webinars on the topic of immigration and co-led a number of travel seminars to the southern border. Dr. Lozada brings extensive leadership experience to his new role.  His is a leading voice in addressing hermeneutical and theological implications regarding how the Bible is employed and deployed in ethnic/racial communities. He serves on the board of the Hispanic Summer Program, guiding its efforts to shape the next generation of Latinx theological and ecclesial leaders.  He also has experience advising the Board of Pathways Theological Education, an online program affiliated with the United Church of Christ, and serving as a member of the CPE Professional Advisory Group at Baylor Scott and White Health All Saints in Fort Worth, TX. He has also served extensively in leadership roles for the Society of Biblical Literature (SBL).
Dr. Lozada holds a PhD in New Testament and Early Christianity from Vanderbilt University, an MTS from Vanderbilt Divinity School, and a BA in Religious Studies from John Carroll University. He was born in Cleveland, Ohio to Puerto Rican parents and is Catholic with a commitment to strong ecumenical and interfaith relationships.