Compelling Preaching Initiative
Compelling Preaching Initiative
CTS's Compelling Preaching Initiative is an 18-month certificate program for Exemplar preachers to engage in cohort learning about the theology and pedagogy of preaching while further developing their own preaching method. During this program, Exemplar preachers produce their own published work and help lead participatory workshops, teaching labs, and preaching labs at the Mixed Methods Preaching Conference to help participants enhance their preaching style. The program culminates with Exemplar preachers going forth to mentor and coach aspiring Apprentice preachers in the hopes of advancing the collective impact of compelling preaching.
The Compelling Preaching Initiative was created to serve those who love preaching, desire to continuously improve with cohort support, and are interested in learning more about African American Preaching and Sacred Rhetoric. Through this initiative, Exemplars and those they mentor will be become more compelling and effective preachers in order to share the message of God's liberative, restorative, and life-affirming love for all.
This phase consists of 4 intensive courses, 3 of which Exemplars attend on campus at CTS with their cohort
Each course is less than a week long, taking place from mid-day on a Monday to mid-day on Thursday
PhD students from the African American Preaching and Sacred Rhetoric Program assist with teaching courses during the residency periods. This gives Exemplars a wonderful opportunity to learn from and with PhD students while pursing their non-degree certificate.
History of Preaching
To expose Exemplar preachers to the latest scholarship in Biblical Hermeneutics such that exemplars and those that they teach might know, understand, and treasure the depths of the Christian and African American Preaching Tradition that has been passed down to this present generation.
Theology of Preaching
To help Exemplars articulate their own theology of preaching given academic understandings of homiletical theory, theologies of preaching, and homiletical method, including sermon development, preparation, and delivery.
Biblical Hermeneutics
To expose Exemplars to the latest scholarship in the field of Biblical Hermeneutics such that exemplars form and teach others to form sermons based on the latest and most recent interpretative tools of biblical analysis.
Pedagogy Online
Using pedagogical principles, Exemplars will develop approaches to teach preaching, including biblical exegesis, hermeneutics, including syllabus construction, the sermon preparation process, structuring and delivery of the message, and sermon evaluation and critique.
Writing Phase
This begins with a 2-day writing colloquy in January which Exemplars attend on campus at CTS with their cohort. Over the next 6 months, the Exemplar works with a writing coach to develop a published work
Phase 3
Mixed Methods Preaching Conference
Mixed Methods Preaching Conference
This phase gives Exemplars the opportunity to work with aspiring preachers during the Mixed Methods Preaching Conference, which occurs at Christian Theological Seminary in September of Year 2
Phase 4
Certificate Ceremony
Certificate Ceremony
This stage marks the Exemplar's completion of the Compelling Preaching Initiative program. Exemplars who complete the program will receive a Certificate of Completion during a celebration ceremony.
Upon completing the previous phases, each Exemplar will develop a group of aspiring preachers they will mentor and teach what they have learned
The goal of this phase is for Exemplars to go out and inspire Compelling Preaching in a sustainable, effecting, and engaging way
Exemplars will share their love, method, and knowledge of preaching in their congregations and the broader community
Student Liaisons from the PhD Program in African American Preaching and Sacred Rhetoric will work directly with Exemplars during this phase to help them employ the Compelling Preaching model when coaching Apprentices.
Preaching
Learn about the theology, history, biblical hermeneutics, and pedagogy of preaching
Learn how to teach preaching to others
Rediscover and invigorate your own preaching style
Take your preaching to the next level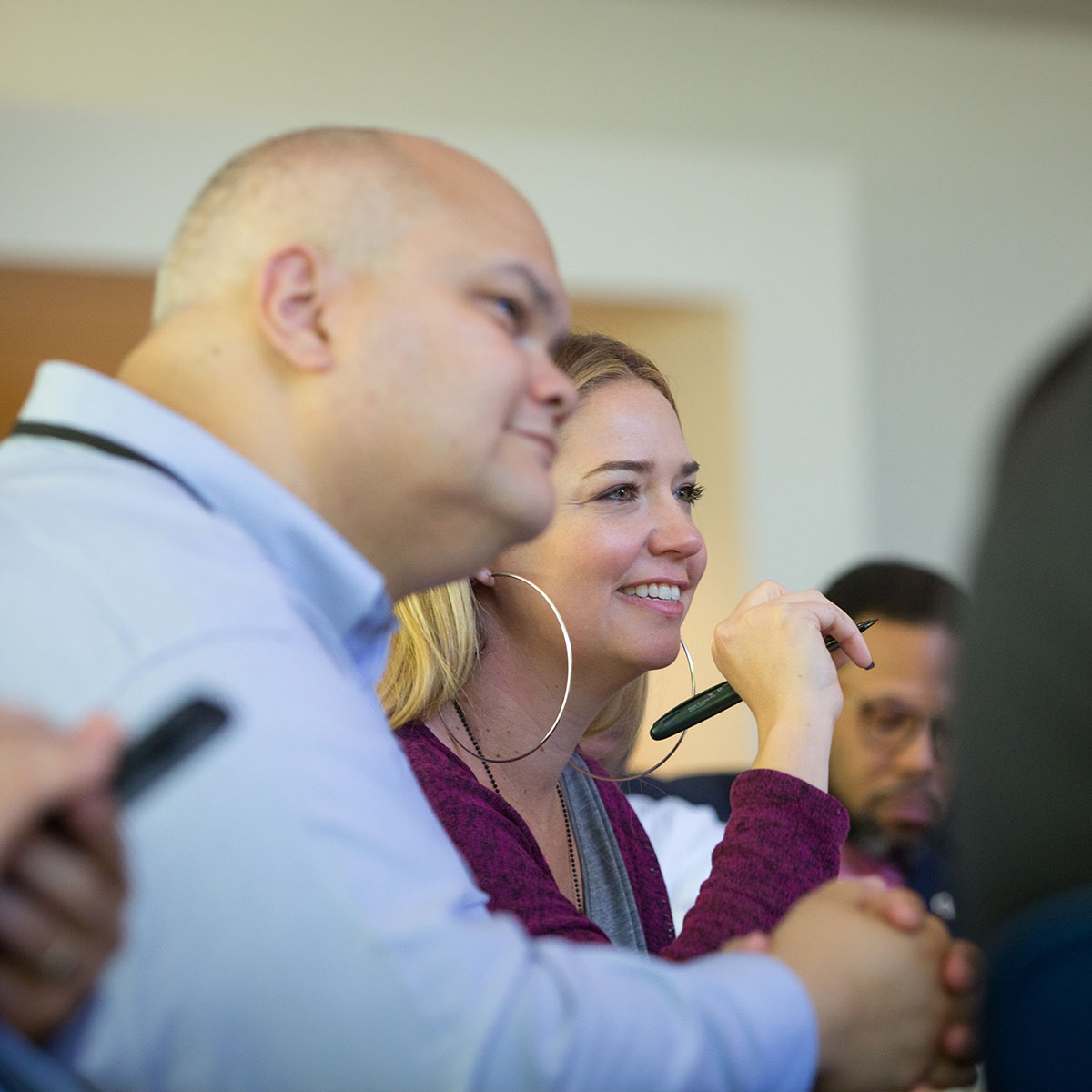 Coaching
Work collaboratively with writing coaches to translate your oral skills onto the written page
Master the writing process
Publish a preaching memoir or workbook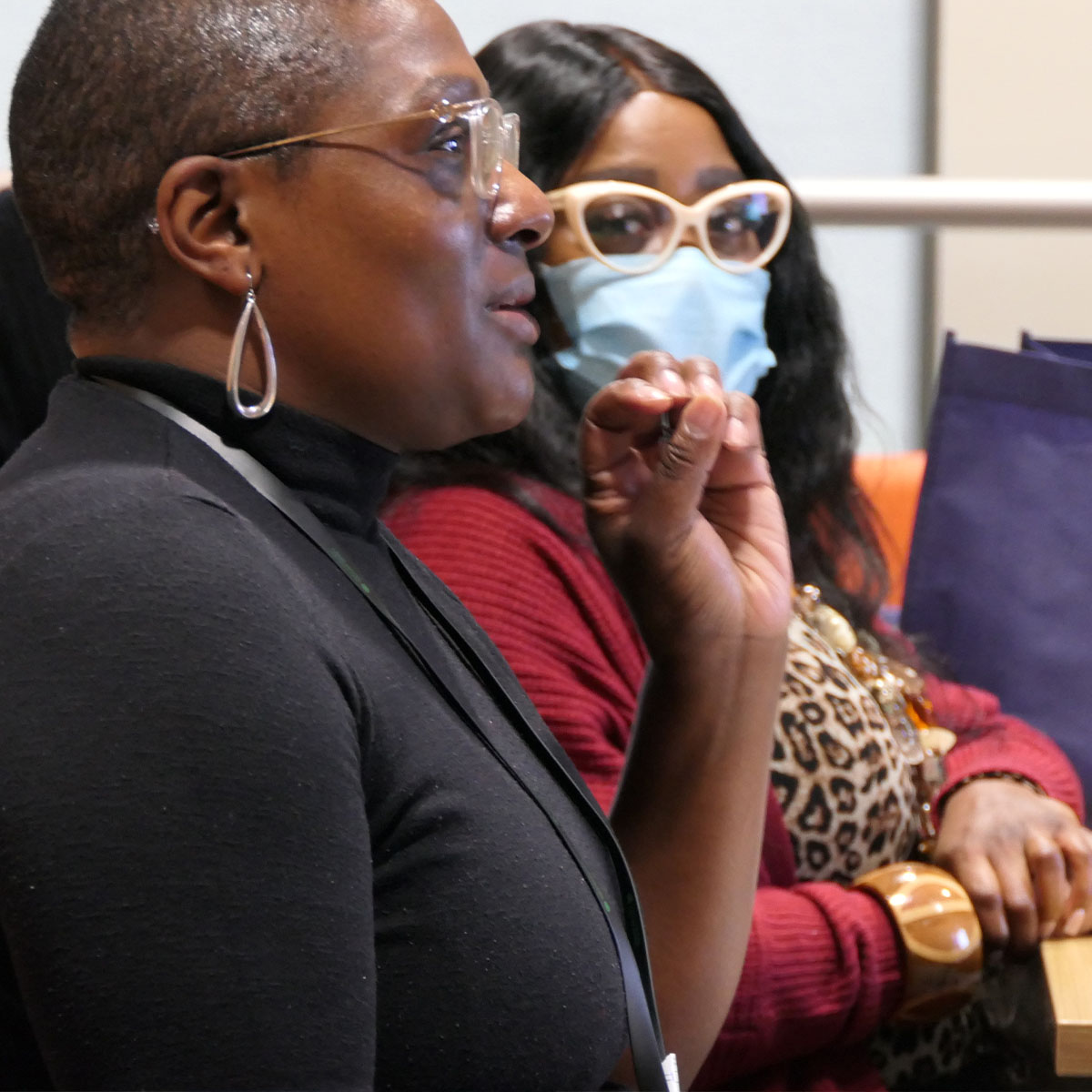 Mentoring
Host teaching labs at the Mixed Methods Preaching Conference
Build a group of Apprentices and mentor aspiring preachers
Teach and develop compelling preachers
Build networks of community and support to advance compelling preaching beyond the program
Exemplars
Five or more years of preaching experience
Willingness to develop a publishable product relevant to preaching
Commitment to an eighteen-month process of mentoring and instruction
Commitment to the tenet that academic study improves the quality, depth, and truthfulness of one's faith and the preaching that comes out of that faith
Apprentices
Must be an aspiring preacher seeking to improve preaching method
Desire to learn about and practice compelling preaching
Willingness to be mentored by Exemplars and participate in networking group(s)
More info about the Apprentice Program will be released in 2024!
The CTS Compelling Preaching Initiative welcomes and affirms persons of all denominations, ethnicities, gender expressions, and sexual orientations to apply and participate in the program. The only requirements are for participants to have a love of black preaching and five or more years of preaching experience.
Apply for the Program
Please complete and submit the Apply form below to indicate your interest in applying to be an Exemplar in the Compelling Preaching Initiative. If you are not ready to apply to be an Exemplar but would like more information, click the Information Request tab below and submit your contact information so that we can reach out.
*Applications to be an Exemplar in the Compelling Preaching Initiative program are not being accepted at this time. Please click the Information Request tab to share your interest in applying for a future cohort, request information, or ask a question.
I have a question or would like to learn more.
Fill out and submit the Apply tab to the left
Receive application form via email
Complete and submit your application
Zoom interviews scheduled with finalists
Cohort members selected
March 22: Application period for initial cohorts opened to the public
April 28: Application for Cohort 1 closed (application period for Cohort 2 continues until filled)
April 20-May 12: Zoom Interviews for Cohort 1 finalists
May 19: Cohort 1 selected
June 6: Zoom Orientation for Cohort 1
July 10-July 13: First class on campus at CTS
Length of Program: 18 Months
Anticipated Workload: Some prep work on off weeks required (+/- 2 hours per week)
Cost: At this time, there is no cost to attend this program. However, travel fees and accommodations are not provided. Need-based scholarships for travel are available by request and on a first-come first served basis.
Support the Initiative
There are several ways that you can support the Compelling Preaching Initiative
Want to become an apprentice? Click the information request tab above and let us know you would like more information
Attend the Mixed Methods Preaching Conference
Like and Subscribe to the Legacy Preaching Series on YouTube
Click below to support the Compelling Preaching Initiative and similar work by making a gift to CTS
"For years and years African American preaching was stereotypically considered ignorance, buffoonery, and emotionalism. I believe the history, beauty, depth, power, and sheer genius of black preaching can generate a preaching renaissance to revive American Christianity in the 21st century. The Compelling Preaching Initiative seeks to involve non-degree students and preachers in the improvement of preaching method, practice, and cohort-based mentoring relationships to further the impact of such a renaissance."

– Rev. Dr. Frank A. Thomas
Get Involved
There are several ways those interested can help advance Compelling Preaching and be involved in the initiative.
Mixed Methods Preaching Conference
The annual Mixed Methods Preaching Conference helps preachers love and improve their preaching. We offer sermons, lectures, education, homiletical instruction, and preaching labs where participants are taught method by our PhD students, write and preach a sermon in front of fellow participants and instructors trained in homiletics, and then receive immediate feedback and critique. We have found the preaching and critiquing of the sermons, after instruction on the homiletical method, to be the most meaningful way to improve preaching.