As we continue to honor Hispanic Heritage Month through October 15th, our CTS archives provided great insight into a historic CTS leader from the LatinX community. For this story, we're turning the time back to 1997 and turning the spotlight to former Dean of Students Dr. Carmelo Alvarez.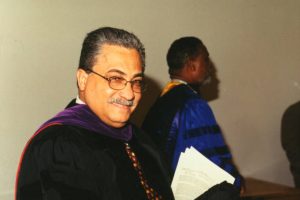 Dr. Carmelo Alvarez (pictured left) served CTS as the Dean of Students and taught as an affiliate faculty member in Church history from 1997 to 2010. He was part of the historic administration that helped CTS reach its goals of diversifying the administration, faculty, staff, and student body in 2003.
Born and raised in the Disciples of Christ denomination, Dr. Alvarez spent his early life and career serving churches in Puerto Rico. He met his beloved wife Raquel Rodriguez at Disciples of Christ Academy, and the two began dating while studying at the Evangelical Seminary of Puerto Rico. Following completion of their studies, the couple accepted several international calls to ministry, counseling, and teaching. They spent forty-four years doing missionary work in Latin America and the Caribbean and found four dimensions to be critical to ministry and counseling: the theological, the missiological, the ecumenical, and the pastoral.
In 1997, Dr. Alvarez accepted appointment as an affiliate member of the CTS faculty. He served as the Dean of Students alongside President Edward Wheeler until 2010. Dr. Alvarez had a significant impact on fellow faculty members, students, and the larger CTS community. Current CTS staff member Melissa Trahyn (Educational Technology Specialist) shares her recollection: ""I fondly remember Dr. Carmelo Alvarez' smile and disposition when I was in high school and college visiting my mom at work. My mom shared an office with Carmelo when he was the Dean of Students, and he would always welcome me and let me practice my Spanish with him. He was a bright light for my mom's years at CTS as the Registrar back in the late '90s and she still speaks highly of him today."
It is with deep gratitude and appreciation that we highlight Dr. Alvarez in honor of Hispanic Heritage Month.
Read more about Dr. Alvarez's life and achievements in his 2018 article A Journey in Faith: An Ecumenical Discipleship published by Disciples of Christ Global Ministries.