CTS Assistant Professor of Homiletics Rev. Dr. Courtney Buggs has found a new way to partner with regional churches to give MDiv and Dual Degree students the chance to preach from the pulpit for the first time in a congregational setting. One of the classes Dr. Buggs teaches is M520 – Introduction to Preaching. The course helps students better understand the preaching tradition and develop or improve their own preaching acumen. During the course, each student is asked to preach 3 sermons: the first in front of their classmate, the second in a contextual setting, and the third as a virtual sermon. While some CTS students come to seminary with background experience in congregational contexts, others are writing and delivering sermons for the first time.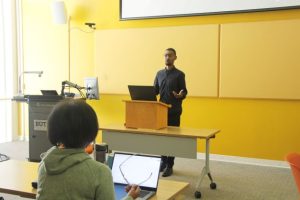 This summer, Dr. Buggs was contacted by Pastor Annette Hill Briggs of University Baptist Church in Bloomington, IN and asked if she or some students would be willing to do some supply preaching during the fall. It just so happened this pastor needed pulpit supply for the month of October – the same month that students were scheduled to preach their second sermons in M520. Dr. Buggs asked the pastor if they would be interested in allowing seminary students preach for the coverage, and the pastor excitedly agreed. Dr. Buggs then rearranged her syllabus to make sure all students would have a chance to preach in the classroom before October.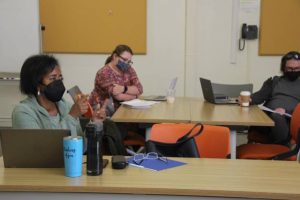 The opportunity serves a need for the church, but it also provides a wonderful contextual preaching experience for CTS students. For the four students scheduled to preach this month at University Baptist Church, this sermon will be the first they ever preach in a church specific context. "My hope is that this will provide contextual education for the students – an opportunity for them to preach outside the classroom setting, for some the first opportunity to preach in a congregational setting, but also for others it is an opportunity to preach in a setting that is unlike their familiar faith tradition," shared Dr. Buggs.
All are invited to attend the services where these students will preach. University Baptist Church services begin at 10:45am on Sunday, and the church is located at 3740 East 3rd Street, Bloomington, IN 47401. CTS students will preach the first four Sundays in October, culminating with a fifth supply sermon preached by CTS Associate Dean for Student Life Rev. Ayanna Garrett.
Dr. Buggs looks forward to future opportunities for CTS students to preach in the community, sharing "I hope other pastors might consider CTS when they need pulpit supply and be open to allowing seminary students to preach. It's a way we can serve our community by serving the church, and the churches also serve our students by giving them real-life contextual practice."