Rev. Laura Bethany Buchleiter, who graduated from CTS with an MDiv last month, is setting off on an innovative ministry path that unites her passions for creativity, ministry, spirituality, and the radical love and hospitality of the Gospel.
Growing up in a military family where she was exposed to a variety of faith traditions, Buchleiter's love for music and the church have almost always gone hand-in-hand. In high school, she taught her pastor guitar lessons, who, in return, would lead her through Bible studies. After a couple of years of Bible College, she then spent time in the Christian music industry while charting the next phase of her life. Looking back, she reflected, "I have always had in the back of my mind a call, an urgent call, to be in pastoral ministry."
When she came out as a transgender woman in 2014, Buchleiter said she thought that her opportunities to serve in ministry were gone. "It took a while for me to find churches and to experience expressions of Christianity that were equally Christ following as they were Christ teaching, where acceptance and understanding of the great diversity of God's creation as expressed in people like myself was a welcome part of the Christian life." Buchleiter enrolled at CTS after finding it to be a place "that was excited about having me as part of their community and becoming part of my journey into ministry."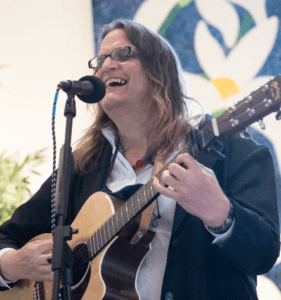 About her experience at CTS, Buchleiter said, "I fell in love again. I fell in love with myself. I fell in love with scripture. I fell in love with new ideas of what church can be… [T]o learn to love again, in a genuine, authentic way, from a genuine, authentic space out from behind the masks that I had learned to wear all my life was the most significant part of my seminary journey." What's more, although she didn't plan on her time at seminary reviving her love of music, she soon found her spiritual, creative, and communal lives intersecting. In collaboration with several of her fellow students, Buchleiter recently released an album of songs written for classes at CTS, entitled Seminary Sessions: More than a Melody. Listen to the album here.
Buchleiter shared that her journey is leading increasingly down a path of creative spirituality. "I developed what I call an addiction to answers," she said, "and part of exploring this concept of creativity is moving away from that and really learning to live into and love the question."
Buchleiter was just recently ordained by University Baptist Church in Bloomington, IN, aligned with the Cooperative Baptist Fellowship, becoming the first transgender person to do so. She is now preparing to assume a new position as an interim pastor in Wyoming. "The immediate calling that I'm feeling is into interim pastoral ministry. Change and transition has emerged as a skill set and something that has been part of my life," she explained. However, her dream, which is quickly becoming more and more a reality, is to unite her many interests and passions in a unique way.
She is currently working to acquire a trailer, in which she will build a traveling music studio. Her plan is to make the trailer her mobile office, a traveling art studio (visual art being another of her creative passions), and a place for artists and musicians she meets along the way to express and capture their own voices. For Buchleiter, there is something spiritually significant about creativity, especially when engaging with others, which ties in directly to her vocation as a minister: "spirituality is recognizing the multiplicity of our own existence as body, soul, and spirit, but also engaging with others as body, soul, and spirit in that capacity."
Listen to Rev. Buchleiter's new album, Seminary Sessions, here.
Learn more about CTS' MDiv program here.