CTS Student Leads Chaplaincy Impact – Rev. Anastasia Holman
CTS Alumna Rev. Anastasia Holman (MDiv '09) is no stranger to navigating the blurred line between corporate leadership and spiritual guidance. An ordained minister in the African Methodist Episcopal Zion Church, her professional career began in corporate human resources management. After completing her undergraduate studies at Indiana State University, she earned an MBA from Indiana Wesleyan University before completing her theological studies at Christian Theological Seminary. Now, Rev. Holman uses the combination of her skills and experience in her role as Director of Chaplaincy Education for the IU Health system and is advancing her education, scholarship, and formation by pursuing a Doctor of Ministry degree here at CTS. Anastasia believes her studies, practical experiences, and the relationships she has built over the years set her up for continued success and visionary leadership in her position.
Chaplains provide presence and comfort for people in need of healthcare, a need which is often accompanied by the need for spiritual care as they seek wholeness and overall well-being. Sometimes their day involves praying with patients, families, doctors, and nurses. Other times they provide encouragement and emotional support to hospital staff, patients suffering from long term illness and sudden emergency hospitalization, and the support networks of those patients who help them navigate the healthcare system. Chaplains also provide grief support and hold space for people to process significant life changes in the midst of their healthcare journeys.
Perhaps the type of chaplaincy most people are familiar with is hospital chaplains who support patients admitted to the hospital. However, chaplaincy support extends far beyond hospital floors. Large numbers of people visiting primary care providers report having experienced social isolation and loneliness. The IU Health system has responded with community outreach efforts to help reduce social isolation and, in doing so, increase well-being and health. These efforts include their Congregational Care Network, a multi-faith program that connects chaplains, churches, parishioners, and neighborhoods throughout Indiana.
CTS interviewed Rev. Holman this summer to learn more about her background, her experience at CTS, her current work, and her vision for the future. Check out the full interview below!
Why did you choose CTS?
I chose CTS because I knew that I would get a great education and it was home for me. CTS is a place that challenged and pushed me beyond my comfort zone, and I was seeking that kind of engagement for a DMin degree. I had relationships and knew that I would have the necessary support me having a family, working in full time ministry as the Director of Chaplaincy Education for the IU Health system, be engaged in ministry at Caldwell Chapel AME Zion Church, and have time for self-care.
What do you remember most fondly of your time as an MDiv student? What means the most to you now?
I remember the community and support of professors, faculty, other students, and friends in my circle and journeyed together. Matriculating at CTS was not always easy; the community and care made it easier and reminded me that I was not alone. The deep theological engagement and critical reflection required me to bring my full authentic self to my studies; it was an emotional, physical, and spiritual journey for me. What means the most to me now are the relationships and the community that undergirded me then; it is still undergirding me now and serves as a reminder that God is with me. I have deep relationships with several of the women that went to seminary with me, and we still meet to do life and ministry together. I appreciate that CTS ensured that I received an excellent education with qualified professors and a curriculum that prepared me for coming alongside others, preaching, and teaching.

As I stepped into the hallways of CTS, my Spirit whispered, "You are home!" I knew it was the place for me to gain my theological education, help me discern my next steps in ministry, and prepare me for ordination. I also received a full scholarship with a stipend. I was a Martin Luther King, Jr. Scholar.
How does your time at CTS impact your everyday work?
I currently serve as the Director of Chaplaincy Education at IU Health. I am an ACPE Certified Educator, and Board-Certified Chaplain, and an Ordained Elder in the AME Zion Church. I was introduced to Womanist Theology and Clinical Pastoral Education at CTS. I did not know that both would have the greatest impact on my everyday work and living. I consider myself to be a Womanist practitioner, preacher, and teacher. My first unit of CPE was the beginning of my love for chaplaincy and chaplaincy education. My SCOFE supervisor, Rev. Beth Newton Watson, became my first CPE educator. She came to CPE day at CTS in 2009, and I knew from that moment and her presentation that Indiana University Health West Hospital was the place I needed to do my first unit of CPE.
How has your calling evolved over time, or how has your discernment and calling evolved?
My calling has evolved over time. When I accepted my calling, I heard God say to me, "Teach and Preach!" I started CTS thinking I would be more involved in Christian Education Department in an AME Zion Church. As I continued to take one step at a time, trusting God, my calling evolved beyond my wildest dreams. I remember the moment that God revealed to me through my husband that I was glowing talking about chaplaincy. I was surprised, and it felt right. Hospital chaplaincy became my new home, along with serving at an AME Zion Church on the ministerial staff and moving through the ordination process. I was in my CPE Residency at Ascension St. Vincent and began to discern God calling me to move into the Certified Education Certification process. This process took five and a half years. My ordination process was as long; CTS served as a strong foundation to get through the AME Zion Course of Studies. I truly value the education I obtained at CTS, and it prepared me for the journey and work that I do as the Director of Chaplaincy Education for the IU Health System. Now I am a current student in the Doctor of Ministry program here at CTS. I kept in touch with Dr. Scott Seay throughout my training, and he encouraged me for years to apply to the DMin program. Right before the pandemic, I discerned the prompting of God moving me toward a Doctorate degree. Here I am, and God is stretching me beyond my comfort zone with new opportunities for preaching, writing, teaching, and community engagement.
Why did you choose to pursue a DMin at CTS?
Once again, the choice felt right in my spirit. I knew the community, and I knew I would gain a quality education. There were other options and places for me to obtain a DMin that would take a year off my educational journey by giving me credit for my ACPE Certification. I did not want to repeat my certification process. I wanted to do something new and engaging. I wanted to be stretched; I was confident that CTS would stretch me as a Transformational Leader. I also wanted to increase my knowledge and capacity in Womanist Epistemology. While I had my first introduction to Womanist Theology, it was in my Introduction to Theology course as an MDiv student. As a Womanist practitioner, I was self-taught during my ACPE certification process. Once again, I heard God say to me, "You are home!" I am a part of the first African American DMin Cohort at CTS.
What are some ways the CTS community can support you in your role and therefore impact our community in a positive way?
CTS can continue by ensuring the tradition of having CPE days for students happens by partnering with the CPE programs in Indianapolis and surrounding areas for students to find a home to grow in their ministry practice. If CTS expanded the audience for CPE days to include ministers and community leaders, this might be helpful also. I think another way is collaborating with CTS to advertise CPE offerings, IU Health's Spiritual Care Grand Rounds, and training for alum, clergy, and community connectors about different issues of social determinants of health. The partnership between CTS, IU Health, and other partners to ensure the Psychotherapy and Faith Conference happens each year is another way of continued support in my role as the Director of Chaplaincy Education for the IU Health system.
---
Rev. Holman's Bio: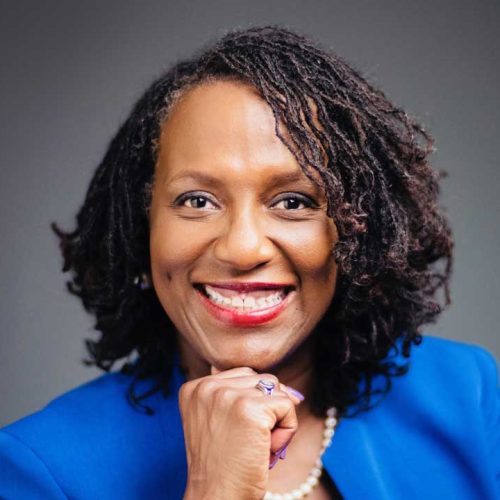 Rev. Anastasia Holman is Director of Chaplaincy Education for the Indiana University Health System. She is an ACPE Certified Educator and Board-Certified Chaplain (BCC) with the Association of Professional Chaplains (APC) and the National Association of Veterans Affairs Chaplains (NAVAC). She currently oversees the Clinical Pastoral Education (CPE) Program for the IU Health System. She previously served as the Manager for Spiritual Care and Chaplaincy for the North Suburban Area of IU Health. Anastasia serves as Co-Faculty for the Religion and Spirituality in Medicine Scholarly Concentration at IU SOM.
‍Anastasia is currently matriculating at Christian Theological Seminary (CTS) seeking her Doctor of Ministry Degree. She graduated from Christian Theological Seminary (MDiv), Indiana Wesleyan University (MBA) and Indiana State University (BS). She completed her CPE Certified Educator Training at IU Health and her CPE Residency at Ascension Health, St. Vincent Hospital. Anastasia was a 2019 cohort member of the Chaplaincy Research Summer Institute through Transforming Chaplaincy. She currently serves on the Certification Commission for ACPE.
Anastasia received several awards during her academic training: she was a Dr. Martin Luther King Jr. Scholar (CTS). In 2007, she was the first African American and first woman recipient of the Christian Theological Seminary (CTS) Church History Award for outstanding academic performance in Church History. She is a past recipient of the Emerging Leaders Award from ACPE for leadership and service. She is also an Ordained Elder and endorsed by the African Methodist Episcopal Zion Church.
For more information about Rev. Holman and her work in chaplaincy at IU Health, click here.
To watch Rev. Holman preaching at CTS Chapel during Women's History Month in March 2020, click here.