A Conversation with Cassidy Hall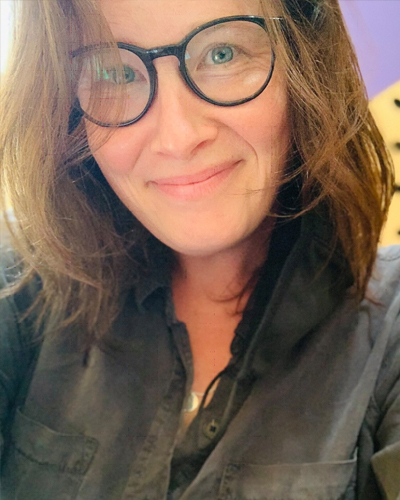 BIO: Cassidy Hall (she/her/hers) (MA, MDiv, MTS, current DMin student) is an award-winning filmmaker, author, podcaster, and holds a Masters of Divinity, Masters of Theological Studies, and Masters in Counseling. She works as Director of Communications for the Indiana-Kentucky and Heartland Conferences of the UCC and is ordained pending call in the UCC. Throughout her time at Christian Theological Seminary in Indianapolis she worked as a Teaching Assistant, podcaster (Contemplating Now and Encountering Silence), filmmaker (In Purusit of Silence and Day of a Stranger), and also served as the Secretary of the International Thomas Merton Society. She currently serves on the board of enfleshed and is pursuing her DMin at Christian Theological Seminary. Her forthcoming book, Queering Contemplation: Finding Queerness in the Roots and Future of Contemplative Spirituality is set to be released in 2024 with Broadleaf and is available for pre-order in July 2023. You can find out more about her work, films, podcasts, and writing at cassidyhall.com  
Tell me a little bit about yourself. What should a person new to the CTS community know about who you are, who and what is important to you, and all the ways you are involved in the CTS community? 
I am a queer faith leader whose work focuses in on the intersections of contemplative life and social justice. What do I mean by "queer"? I mean my sexuality and my expressions in life and faith don't fit into boxes. Queer is the way I tilt my head to look at the world and the way I show up as a contemplative faith leader. This is the focus of my forthcoming book from Broadleaf Books titled Queering Contemplation: Finding Queerness in the Roots and Future of Contemplative Spirituality (2024, available for pre-order in July 2023).  
Before coming to CTS, I was living and working in the Los Angeles area as a documentary filmmaker. There I attended an Episcopal church and developed a greater understanding for holding faith alongside my doubt, peeling back my clenched fists of certitude to host the infinite questions faith demands. While in Los Angeles I was on the production team of the award-winning documentary feature film, In Pursuit of Silence, a film about our relationship with silence, sound, and the impact of noise on our lives. My creative work in podcasting also began before coming to seminary and continues to this day. Currently I have a podcast with The Christian Century titled Contemplating Now and I am currently in process of releasing another podcast with The Christian Century titled Queering Contemplation. I am also the co-creator and co-host for the Encountering Silence Podcast.  
During my time at CTS, while studying for my MTS and MDiv degrees, I worked as a Teaching Assistant alongside the Rev. Dr. Bill Kincaid in a variety of classes from ministerial leadership to the life of Trappist monk, Thomas Merton. The Rev. Dr. Kincaid also worked with me as I created my directorial-debut award-winning film about Thomas Merton, Day of a Stranger.  
With my time at CTS occurring during an ongoing global pandemic, I began to see even more clearly the ways church must move beyond its own figurative and literal walls in order to survive, thrive, and be the church. Marginalized and oppressed communities must be recognized as the voice of Christ for the church to become a place of liberation, justice, and love. My MTS thesis was titled Awakening Mysticism with the Scholarship of African American Women, which featured the work of the Rev. Dr. Barbara A. Holmes, Dr. Joy R. Bostic, and founder of the Spiritual Directors of Color Network, Therese Taylor-Stinson.  
Upon graduating from CTS with MDiv and MTS degrees (2021), I began working as the Director of Communications for the United Church of Christ's Indiana-Kentucky and Heartland Conferences. There, I create, produce, and oversee the communications alongside Conference Ministers, the Rev. Dr. Chad Abbott and the Rev. Dr. David Long-Higgins. Each day we work together to navigate the digital space in a way that is ministerial and focused not only on information but faith formation in our ever-changing world. We navigate the ways expression must move to connection, emails and posts and social media must be a way of cultivating community and creating fellowship.  
My involvement in the CTS community continues through my lifelong relationships built there and my current pursuit of a DMin degree. The conversations with my professors are now conversations with colleagues, and the conversations with lifelong friends continue to expand and evolve as we live into the meaning of faithful leadership in our ever-becoming selves and ever-changing world.   
Your career and calling have had a very interesting progression and evolution. Can you walk me through what that was like as you experienced it? How did you discern your calling, and how has it changed over time? How would you articulate your calling now? 
Vocation, for me, has been a process of sinking my roots into interconnectivity which allows my own voice to flourish. My journey of finding voice has been one which has evolved alongside my own understanding of my true-self and the world around me.  
You quit your job in 2012 to pilgrimage to the 17 Trappist Monasteries in the US. What motivated you to make that bold decision? How and when did you know it was the right decision for you? 
In 2012, I was working as a Substance Abuse Counselor in a community agency in Iowa and began reading Thomas Merton's New Seeds of Contemplation in-between clients. His essay "Integrity" struck me to my core, like a bell calling me to prayer, calling me to who I truly am:  
"Many poets are not poets," he writes, "for the same reason that many religious men [people] are not saints: they never succeed in being themselves." This concept of the "true-self" that he and many others have written about, was something I was still navigating in my own life. Reading his work led me to visiting Gethsemani Abbey in Kentucky (the monastery where he lived and wrote until his death in 1968) and then onto traveling to all 17 Trappist monasteries where I spoke with monks and nuns about silence, solitude, and contemplative life.  
After that pilgrimage, you moved from Iowa to California to work in filmmaking. Tell me a bit about that move and how it laid the groundwork for stepping into your fullest self. 
My time in Los Angeles was largely about exploring the importance of creative collaboration and trusting the creative spirit within myself. Working with award-winning filmmaker Patrick Shen on the documentary In Purusit of Silence, and then my directorial debut, Day of a Stranger were projects of self-exploration, spiritual imagination, and creative collaboration. During this time, I learned creative collaboration is the heartbeat of my work in the world. Each of us has a creative touch that no one else can bring to a conversation or project, and when that is fully engaged, the best outcome emerges and infinite possibilities exist.  
Where does your passion for the great mysteries of life come from? How has that further developed throughout your life? 
For as long as I can remember, I've been concerned with the questions no one can answer. For me, the Divine's presence exists in that space where my clenched fists are peeled back and I am left holding more uncertainty. Mystery, I've found, is precisely where the Divine resides.  
Both films you have made are beautifully artful and pack a powerful, albeit peaceful, punch. What inspired the films? Did they develop over time, or did you know from the start where the stories were heading? 
For me, inspiration for films comes from a desire to utilize the senses of sound and sight to describe something that lives in the mystery––something which cannot really be fully expressed or spoken. The films I've worked on have all been contemplative in their orient and it is my hope that they also allow the viewer to leave restless, asking their own set of new questions, peeling back their own clenched fists to hold the possibilities before them.  
You wear many hats – filmmaker, student, counselor, minister, podcaster. How do these roles weave together and dance congruously in your life? 
If creative collaboration is the heartbeat of my work, the centerpiece is love, liberation, and justice. I find myself to be a storyteller in my work through the art of communication.  
As a CTS alum, what advice would you give to current MDiv and Counseling students? 
First, I'd tell all MDiv and Counseling students to hang on to your books a little longer than you think you need to––you'll find yourself reaching for books from class which may have once annoyed you. Second, and most importantly, I would encourage students to "go there." Go to the places that scare you, ask the questions you really want to discuss, engage with your professors and colleagues in the heart of the matter for you. Each time I did this in my time at CTS, I was met with engagement, encouragement, support, and openness. Sometimes this was a matter of asking hard questions about a class topic or wondering where the BILPOC or LGBTQIA+ or disabled community's voices were, other times it was wondering if a creative project of mine would be considered "academic enough." CTS isn't just a segment of your life to get through, but a place to know who you are more deeply, to get to know your neighbor more clearly, and to awaken your understanding of innate connection and belonging to all humanity and creation.  
What has your experience in the DMin program been like? How does the program enhance and enliven your work? 
Working with the Rev. Dr. Scott Seay in the DMin program is an incredible experience of finding my focused-voice while engaging more deeply with the gifts I bring to the table. I've found the DMin program to be exactly what I needed at this stage of my life and career in the ways it is flexible and allows me to continue my ministerial career while advancing my education. It certainly helps that the Rev. Dr. Scott Seay and my DMin colleagues are fantastic conversation partners who help each other find voice, clarity, and depth in each other's work.  
What do you enjoy most or hold dearest about the CTS community? 
The CTS community is much more than a community of believers––it is a community of questioners, doubters, and wonderers. My experience of seminary was one of deepening faith because of the safety in expressing doubt. Some of my fondest memories of CTS come from the conversations of the classroom seeping over into everyday life and social time with my friends.   
Your films continue to be recognized at arts and film festivals throughout the country. Where have you represented the films, and what sorts of questions do you tend to get asked? 
When I share my film about Thomas Merton's hermitage years, Day of a Stranger, I often get asked how Merton can be shared with younger generations.  That led to writing this piece on The Christian Century about the importance of letting go of some of these older voices in order to embrace the necessary truth of the voices here-and-now, especially the voices of the marginalized and oppressed.  
https://www.christiancentury.org/article/first-person/maybe-it-s-time-me-let-go-thomas-merton 
What is a favorite part of filmmaking for you? 
My favorite part is creative collaboration and the many ways it is a generative material for infinite possibilities. Working with award-winning filmmaker Patrick Shen led me to a greater understanding of my own contemplative life by utilizing slower pacing on the screen. In a world of shortened attention spans, tik-toks, tweets, catchy soundbites and visuals, I hope my films offer something that is an alternative route: breathing room, a place of reflection, a sacred pause amid our hectic days.  
What is something difficult about filmmaking? 
Creative collaboration as well, because that demands we listen deeply and closely to each other in a way which may feel antithetical to our own beliefs or desires. But this deep-listening is necessary for the best possible outcome to emerge.  
What do you enjoy most about interviewing guests on your podcast? 
Interviewing is one of my favorite things about my creative work. Through interviews, I get to gather information through questions, while also letting go of my agenda and allowing the organic nature of a conversation to emerge. Each time the interview goes its own route, I sense Spirit taking over and creating the most authentic conversation possible.  
Is there anything else you would like to share? 
I recently signed a book deal with Broadleaf Books and am working on a book titled Queering Contemplation: Finding Queerness in the Roots and Future of Contemplative Spirituality, which will be out in about a year (2024, available for pre-order July 2023).