Former CTS staff member and student Eric LeSure has found a way to serve the Indianapolis community by serving a cup of coffee, but his hot take on the traditional coffee shop adds a shot of art, one pump of culture, and a hearty helping of history. LeSure's brand new venture is The Avenue Coffeehouse and Café located off Broad Ripple Avenue at 6283 North College Ave in Indianapolis. The Avenue Coffeehouse and Café describes itself as "a community gathering space, committed to inspiring social change and transforming lives through great coffee, food, music, art, and Black culture."  
Patrons of The Avenue are greeted by a warm, open atmosphere with comfortable seating, decadent décor, and artistic reminders of the café's namesake – the historically and culturally rich Indiana Avenue which has been central to Indy's Black culture and community since the mid-1800s. In the roaring 1920s, Indiana Avenue was thriving with Black-owned businesses including dozens of thriving jazz clubs. Unfortunately, increased police raids and racially segregated development caused much of this thriving corridor to disperse and decentralize by the mid twentieth century, but the impact of the African American culture and arts embodied in the Avenue paved the way for Indianapolis arts, music, and businesses for perpetuity. 
100% of the profits from the coffeehouse are donated to The Avenue Foundation (TAF), named to pay homage to the rich history and culture of Indiana Avenue. The foundation was founded to build racial and economic equity and empower the Black community in Central Indiana to create and sustain generational wealth.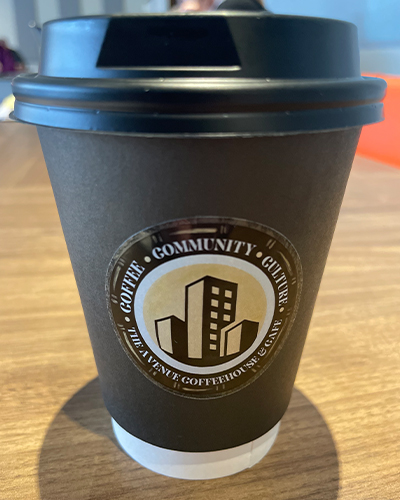 LeSure also serves as Executive Director of TAF, but during the coffeeshop's grand opening on Monday, February 27th, patrons excited to try the new brews could find Eric behind the counter alongside the talented staff. Cashier and barista are two new roles LeSure can add to his robust resume. His journey to opening The Avenue Coffeeshop and Café included a courageous business leap in the midst of the Covid-19 pandemic. He was making candles named for renowned influencers of Black culture, and support and interest (along with sales) grew rapidly. Eric started Rich Culture Candle Company in 2021 and describes the company as "more than a candle brand. Every handcrafted candle we offer tells a story. Each scent is deliberately named to pay homage to our rich Black culture around the world. Our collections are crafted to tantalize, captivate, inspire, empower, and give reverence to 'THE CULTURE'." These candles are available for sale in The Avenue, further uplifting Black culture and history to patrons and customers. 
The Avenue held a soft opening in early February packed with donors and supporters who could not wait until the grand opening for a sneak peek. Now that the café is officially open, patrons can come enjoy coffee, tea, cookies, art, and conversation during the regular hours of operation from 7am-3pm daily (closed Tuesdays). Be sure to visit soon!