Our alumni profile stories have unearthed incredible stories of ministry, both in traditional mediums and in new, creative formats.
This Friday, Sept. 9, Apple TV+ premiers a new show called Gutsy that highlights one CTS alum and her creative ways of serving as a minister. The docuseries features Hillary and Chelsea Clinton in candid conversations as they celebrate artists, activists, community leaders, and everyday heroes who show viewers what it truly means to be gutsy.
The trailer teases many of the shows powerful interviews with names you likely know – Kim Kardashian, Abby Wambach, Wanda Sykes, Jane Goodall, and Megan Thee Stallion. It also shows a name and face familiar to the CTS community – alumna Rev. Whittney (Murphy) Ijanaten (MDiv '17) – talking with former Secretary of State Clinton about the gutsiest decision she ever made.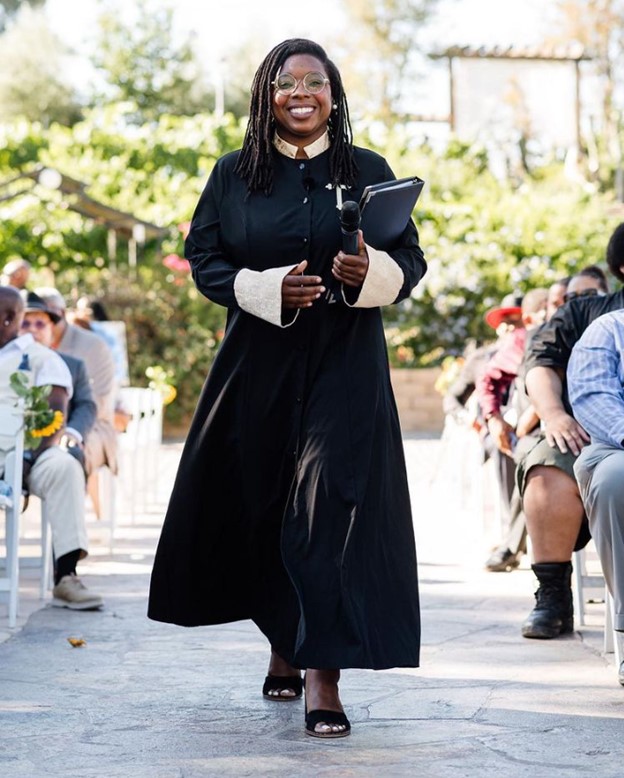 You might be asking how Whittney's ministry preparation at CTS led to an interview with the first female Presidential candidate nominated by a major political party. It may seem out of place to watch Whittney ask Secretary Clinton about her decision to stay in her marriage while discussing love and life. But upon a closer look, Whittney's studies at CTS were foundational on her path to creative new mediums for ministry.
Rev. Ijanaten has lived out her calling in diverse expressions since graduating from CTS – working with the Disciples of Christ's National Benevolence Association and Global Ministries office, completing chaplain residency at UCLA health, and even starting a homemade cleaning product store with her son during the pandemic. In 2020, she founded her own wedding officiating business called "Rev, I Do Officiating" – a play on her last name and the traditional "I do" vows. She offers pre-marital counseling services, ceremony officiating, and paperwork signing and processing. Her business is intentionally inclusive and committed to respecting each couple and individuals' intersectional identities. When asked how she centers inclusion as an officiant, Whittney says, "I lead with myself. I find that just by being me – a queer black clergywoman, a professional entrepreneur who is witty and has a strong sense of style and fashion – people are given permission to be fully themselves in planning their ceremonies."
She offers a completely customized experience based on who the couple is and what is important to them. She tells interested couples, "No matter what, at the end of the day I'm going to get you married, but we're going to have fun on the way. You get to showcase your love story – how do you want to tell it to the people you've invited to this sacred space? Anybody can read a script, but who do you want to stand with you on your sacred day?" Since 2020, Whittney has officiated over 100 weddings in a variety of formats – elopements, large ceremonies, virtual ceremonies, and private nuptials. Locations have ranged from living rooms to beautiful vistas in national parks. On September 1, Rev, I Do became her full-time career.
So how did this lead to her interview on Gutsy? Last fall, Rev. Ijanaten received an email from a .edu email address from someone looking for a wedding to film for an upcoming project. Whittney gladly agreed to arrange filming at a ceremony she was officiating for a queer, Latinx couple. In her mind, it was likely for a school project – in reality, the student was an intern for Apple TV+ working on the Gutsy project led by Oscar-winning director Cynthia Wade. They were looking for a wedding officiant blazing new trails, and they both found Rev, I Do Officiating and Whittney through a recent Brides.com article. Once they looked at her website and read through her client testimonials where couples talked about how Whittney made them feel normal, beautiful, and celebrated for the first time in their lives on their wedding day, they knew they had found their officiant.
Arrangements were made, the wedding ceremony was filmed, and in the fall of 2021 Rev. Ijanaten spent 90 minutes in an interview with Hillary Clinton talking about love, marriage, and how being your full authentic self gives others permission and courage to do the same. When asked how her time at CTS prepared her for success as an officiant, Whittney shared, "I have one word – cohort, cohort, cohort. I didn't understand what a cohort was until I became a part of a learning community at CTS. Building a ministry network and learning to lean on the person next to me in innovative ways has allowed me to sustain ministry and prevent burnout. I'm a sole entrepreneur, AND I have a network. I have this beautiful network of fellow ministers, clients, and vendors who are committed to the same principles, professionally and personally. They say, 'If you want to go fast you can go alone, but if you want to go far you need to go together.' I used to go fast, but CTS showed me I can go farther in ministry and life with the support of community."
To learn more about Rev. Whittney and Rev, I Do Officiating visit https://www.revidoofficiating.com/ or call 323-364-5341.