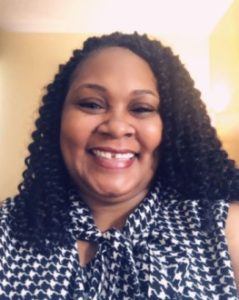 DMin student Rev. Notoshia Donnell Howard serves in both pastoral and chaplaincy ministry, and her ongoing theological education continues to inform her work as a member of the innovative Congregational Care Network at IU Health.
Howard, who earned an MDiv from Indiana Wesleyan University, has been in congregational ministry for 21 years and is an ordained itinerant Elder in the African Methodist Episcopal Church currently serving Bethel AME in Bloomington, IN, where her husband is appointed pastor. She has been working as a chaplain for the past four years at IU Health and has recently become part of its Congregational Network Team as the Staff Chaplain.
The Congregational Care Network (CCN) is a new part of the Spiritual Care and Chaplaincy Program at IU Health that aims to address social isolation in patients over the age of 50 by connecting them with members of church congregations. Howard initially got involved with the initiative because it was her Clinical Pastoral Education fellowship focus. Part of Howard's work now is to meet, identify, and introduce patients to the program. Watch a video about the CCN's important work and Howard's involvement here.
Howard recently began the DMin program at CTS in Preaching and Worship with a focus on Womanist Theology in search of resources and methods to better interpret the biblical narrative in her own context and experience, which she described as that of "an African American woman called to ministry living in a world where ordinary and marginalized people suffer on a day-to-day basis." Building on the insights from her MDiv program, she is working to develop a perspective that allows her to attend to the many needs of persons, "whether in a church building or a hospital room."
She explained, "I came to CTS because I have always been told that CTS will not tell you what Theology to believe but will challenge you and ask you why you believe what you believe and to defend what you believe."
She continued, saying, "One of the things I love about CTS is that they wanted to know what my interests and ministry contexts were so that they could better understand and assist me in my congregational and chaplaincy journey." Having recently taken Prof. Kimberly D. Russaw's course on African American Biblical Hermeneutics and Womanist Biblical Interpretation and the DMin Seminar on leadership with Prof. Scott Seay, Howard remarked on how both have contributed to her theological and leadership development.
"CTS is helping me to grow as a leader preaching and teaching from the margins and offering spiritual care from the margins," she said, "knowing that the least of these need to belong and need to feel cared for and that I can stand in my authentic female black skin and offer compassionate, loving, and authentic care to those who look like me and to those who are totally different than me—without judgment and with love and affirmation."
Learn more about the DMin program at CTS here.