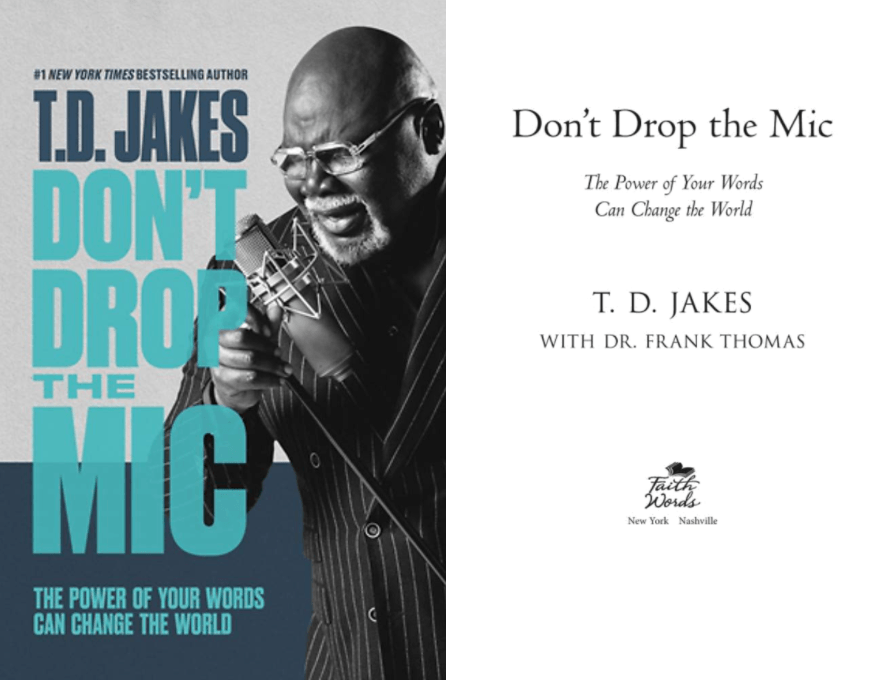 For more than five years now, Prof. Frank A. Thomas and the PhD Program in African American Preaching and Sacred Rhetoric at CTS have been archiving, studying, and contributing to the beauty, genius, depth, and creativity of African American preaching. As a part of this, Thomas and the PhD program launched in 2015 the African American Preaching Legacy Series, which records and archives interviews with prominent pastors about their influences, development, and methods as preachers. Most recently, Thomas had the opportunity to interview Bishop T.D. Jakes, one of the most prominent preachers in the world, which led to Thomas contributing several chapters to Jakes' newest book on the art of public speaking, Don't Drop the Mic: The Power of Your Words Can Change the World.
The project of conducting the interview with Bishop Jakes and contributing to his new book was more than three years in the making, and it flows directly out of the PhD program's overall mission. "So much of the genius of African American preaching has gone to the grave because it's basically an oral tradition," Thomas said. While new technologies and online platforms are improving access and availability for some, Thomas explained the ongoing need for careful analysis and greater understanding of the methods that different preachers employ, especially for those as influential as Jakes.
Thomas framed his interview with Jakes around a culinary metaphor. He explained, "Grandma cooks, and she doesn't need a recipe – just a pinch of this, and a pinch of that." Unfortunately, though, he said, "grandma's recipes rarely get written down." In the hopes of preserving and better understanding Jakes' preaching, Thomas said that he set out to capture Jakes' "recipe."
In the new book, Thomas analyzed Jakes' preaching over three chapters, "The Recipe," "The Ingredients," and "The Taste," and he contributed in a fourth chapter a rhetorical analysis of Jakes' popular sermon, "I Didn't Know I Was Me." In the chapter on "The Recipe," Thomas explores the tradition out of which Jakes' preaching emerges. Extending the metaphor, Thomas explained, "any great cooking comes out of a cultural context," and so Thomas digs into the African American preaching tradition out of which Jakes' own homiletical method has developed. In the chapter on "The Ingredients," Thomas works to identify the different elements of Jakes' sermon preparation process and delivery. Finally, in the chapter on "The Taste," Thomas offers an assessment of why Jakes' preaching is so persuasive and effective.
Thomas elaborated on how exciting it was to work with and study one of the most prolific and influential preachers of our era, but he insisted that his contribution to the book is an example and extension of what the PhD program is all about.
About the methodological analysis he contributed to Jakes' new book, what Thomas called "the art and science" of preaching, he said, "This is what we do!" He continued, "I just happened to get the opportunity to engage a preacher of this stature. But in interviews, in classroom teachings… this is simply what we do on a day-to-day basis."
Placing this all within the larger context of the PhD program's mission, Thomas explained, "We want to generate a preaching renaissance to help revive American Christianity." Hoping to have the widest impact possible, the work of archiving and studying African American preaching is intentionally being made available to the wider public, which is a value built into the PhD program itself. "We want to teach and equip students to teach anyone who wants to improve their preaching," Thomas said.
Watch Prof. Thomas announce the release of Bishop Jakes' new book and his contributions to it:
Get a copy of Bishop T.D. Jakes' new book here.
Learn more about CTS' PhD Program in African American Preaching and Sacred Rhetoric here.