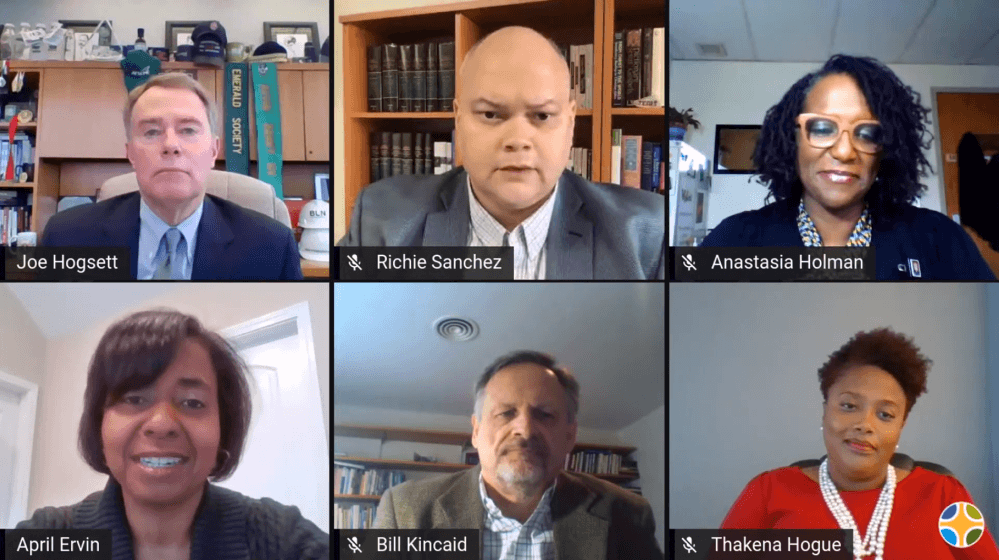 Over recent months, CTS has hosted three online events as part of its "Virtual Alumni Speaker Series" addressing topics relating to leadership, healing, and the life of faith. The first installment, on May 14th, was "The Bible in a Time of Pandemic," and featured a conversation with Prof. Kimberly Russaw and Prof. Amy Lindeman Allen. The second, "Healing the Wounds of Racism," took place on August 20th and featured a dialogue with CTS Counseling Center staff and residents Rev. Hazel Owens, Rev. Lee B. Ivy III, and Rev. Shar'ron Mason. Both conversations were moderated by April Ervin, Director of Alumni Relations and Annual Giving
On October 29th, Prof. Bill Kincaid, Herald B. Monroe Professor of Leadership and Ministry Studies, joined Ervin to moderate "Divine Calling & Daily Profession: The Intersection of Faith & Vocation." The conversation featured alumni members Rev. Richie Sanchez, Regional Minister of the Pacific Southwest Region of the Christian Church (Disciples of Christ), Indianapolis Mayor Joe Hogsett, Rev. Anastasia Holman, Director of Chaplaincy at IU Medical Center, and Thakena Hogue, attorney at Katz.Korin.Cunningham.
The Seminary's mission is to form disciples of Jesus Christ for church and community leadership to serve God's transforming of the world. This gathering demonstrated the reach of that mission through the wide range of leadership roles that CTS can help prepare and equip its students to undertake, from public service and the practice of law to chaplaincy and church leadership.
The sometimes clear, sometimes complicated, always important interplay of faith and vocation was on full display during this discussion with the considerable breadth and depth of experience shared by the participants. Reflecting on the impact of CTS on her life and vocation, Hogue explained that, "My seminary training informs me as a human being. It informs everything that I do…it grounds me."
The conversation addressed topics such as social justice, institutional honesty and transparency, and the importance of faith for guidance and direction. In particular, the alumni discussed matters of ethical leadership, referring to real life examples involving hospice care, guiding congregations into critical discussions about racial justice, and maintaining integrity in professional life.
As Mayor Hogsett elaborated on the need for continued reform and greater equity in Indianapolis, he explained that his understanding of love and justice are anchored in his Christian faith. "It's the faith tradition that I bring to the office that motivates me each and every day," he said.
Watch their conversation here: