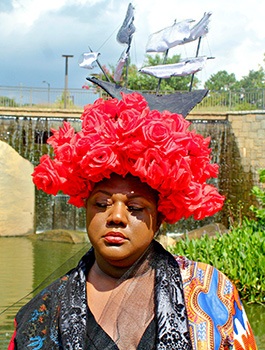 CTS student and Artist-in-Residence, Michele Wood, is heading to the Smithsonian National Museum of African American History & Culture on June 9 to sign copies of her illustrated books. Michele is an illustrator, painter, filmmaker, and designer who is pursuing her Master in Divinity degree at CTS.
She has won several awards for her illustrations including an American Book Award, the Coretta Scott King Award for Illustration and the Ashley Bryan Award for Illustration. In 2016 she was nominated for an NAACP Image Award for the book Chasing Freedom.
Her books are available in the Smithsonian bookstore and she has signed books there before, but this will be her first time at the National Museum of African American History & Culture. In addition she will be doing a book signing at select schools for the Open Book Foundation a children's literacy foundation, where all of the students will receive a copy of her latest book Like a Bird.
Regarding this opportunity Michele said, "This is validation for my work on African American History. It is an opportunity to engage and share the important wins and losses of our history. I make a point to give the subjects of my slavery books and depictions of slavery dignity. I want you to see them and not turn away from the ugliness of slavery. This is an opportunity to have dialogue about an important time in our American History."
Michele is currently collaborating with the Indiana State Museum to produce a video about the Levi Coffin House in Fountain City, IN which was known as the "Union Depot" for the Underground Railroad as Coffin and his family helped rescue over 1000 men, women, and children from slavery. Additionally, Michele's new painting titled SoJourner Truth: An African American Preacher will soon hang in the lobby at the front entrance to CTS.
Michele's books are available in the CTS bookstore and at Amazon.