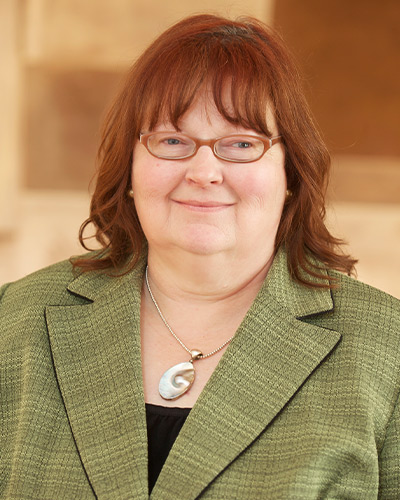 Suzanne Coyle
Lois and Dale Bright Professor in Christian Ministries, Professor of Pastoral Theology and Marriage and Family Therapy, Director of the Marriage and Family Therapy Program
Suzanne Coyle brings years of experience as a pastor, counseling center director, and therapist to the challenge of juggling academic and administrative roles at CTS. Her pastoral experience includes ministry in suburban New Jersey, urban Philadelphia, and rural Indiana. In addition she maintains a private counseling practice with individuals, couples, and families. She has completed the Externship and Advanced Core Skills training in emotionally Focused Therapy. Coyle also consults with congregations using systems and narrative approaches. She also leads family life retreats.
Coyle holds MDiv and PhD degrees from Princeton Theological Seminary and an AB degree from Centre College. Her doctoral studies included work at the Annenberg School of Communication at the University of Pennsylvania. Coyle also holds a Postgraduate Diploma in Narrative Therapy and Community Work from the Dulwich Centre in Australia, the center co-founded by Michael White, the co-developer of narrative therapy.
Coyle blends her commitment to ongoing personal and professional formation through her involvement in the Indiana Association for Marriage and Family Therapy of which she is a past president and the Board of Directors for Appalachian Educational Resource Center. Formerly, she has served on the Board of Governors for AAPC and as Chair of AAPC Midwest Region. Coyle is a Diplomate in the American Association of Pastoral Counselors as well as a Clinical Member and Approved Supervisor in American Association for Marriage and Family Therapy having received clinical training at the Ackerman Institute for the Family in New York. In addition, she regularly presents nationally at AAMFT and AAPC conferences and is acknowledged for her experience and expertise in clinical supervision. In addition, she has presented at the International Family Therapy Association World Congress and the American Baptist biennial in global contexts. Coyle's research interests include ministry and culture in Appalachia, spiritual narratives, and learning outcome measures. During 2005-2007, Dr. Coyle led CTS to its distinction as one of eight programs nationally that participated in the MFT Core Competencies Beta Test Group sponsored by the American Association for Marriage and Family Therapy.
Coyle has published articles and book chapters in peer reviewed publications. Her book Restorying Your Faith uses spiritual narratives as a spiritual practice is in publication. She is also working on a book for Fortress Press entitled Uncovering Spiritual Narratives: Using Story in Pastoral Care and Ministry. An ordained minister with American Baptist Churches, USA, Dr. Coyle is married to Peter Zinn, a Presbyterian pastor of the Old National Road Presbyterian Parish in Knightstown-Lewisville, IN. They are the parents of one son, Joel, who is a graduate of Princeton University. When not in Indianapolis, the family enjoys life on her childhood farm in central Kentucky.