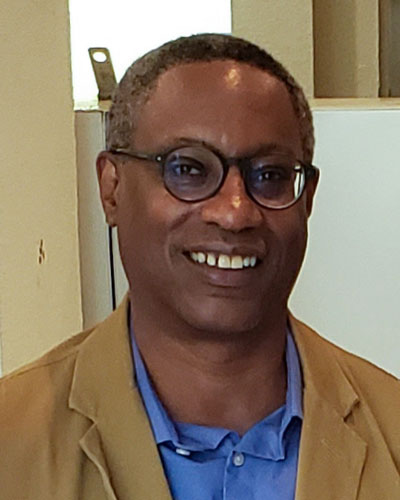 Raymond R. Sommerville
William G. Irwin Associate Professor Emeritus of Church History
Dr. Sommerville serves as Associate Professor of the History of Global Christianity at Christian Theological Seminary. He came to CTS in 1994 from Fisk University in Nashville, TN. Strongly rooted in the African American church tradition; he approaches church history from a Pan-African and ecumenical perspective. A third generation minister in the Christian Methodist Episcopal Church, Dr. Sommerville was born in Philadelphia, PA, to the late Rev. R. R. Sommerville Sr. and the late Mrs. Barbara Hoye Sommerville. In 1970 his family moved to Columbia, SC, and then to Jacksonville, FL. At the age of 17 he answered the call of ministry in Jacksonville where he briefly served as an associate minister under his father.
Dr. Sommerville is a 1980 graduate of Miles College in Birmingham, AL, where he majored in journalism and assisted in campus ministry. He was awarded a Benjamin E. Mays Fellowship to further his ministerial preparation at Duke University Divinity School. While at Duke, he was appointed to CME churches in Durham and Raleigh, NC. He also served as pastor of three churches in Tennessee while completing his doctoral degree at Vanderbilt University in Nashville.
In 1999, he completed the requirements for a Ph.D. in Church History at Vanderbilt University. His dissertation focused on the role of African-American Methodists in the Civil Rights Movement, with a special emphasis on CME Church participation. While in Nashville, he taught three years at Fisk University, served as a teaching assistant at Vanderbilt University, and worked for the United Methodist Publishing House.
He has published articles in Notable Black American Women and Encounter. His current research projects include a study of Black Methodists in a global perspective, religion and conflict resolution in Africa, and the prophetic art of James Baldwin. He is the author of An Ex-Colored Church: Social Activism in the CME Church, 1870-1970 (Mercer University Press, 2004).
Since coming to CTS, Dr. Sommerville has also served as a visiting professor at Butler University and an associate minister at Phillips Temple CME Church in Indianapolis, where he co-teaches the new member class, leads the My Brother's Keeper mentor program, and serves as Director of the Board of Christian Education. In 2006, he was appointed by the College of Bishops of the CME Church as the CME commissioner to the Faith and Order Commission of the National Council of Churches of Christ in the USA.
In addition to teaching courses on the global history of Christianity, he also teaches courses on African American religion, Christianity in Africa, pastoral leadership, and HIV/AIDS ministry. He helped to launch a series of new courses on the history and growth of Christianity on the African continent. These courses have been supplemented by study tours Ghana and South Africa.
Ron is married to Sharon McGrew Sommerville, and they are the parents of two young adults: Raymond III and Maya.