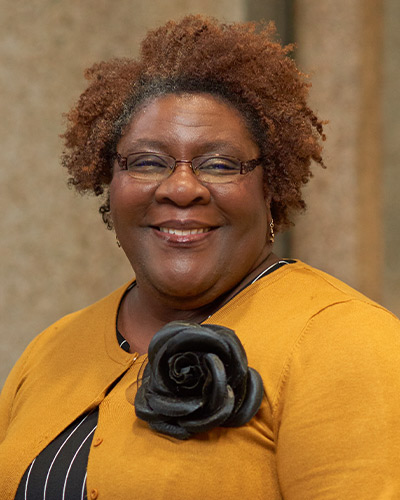 Nicole Z. Robertson
Assistant Professor of Clinical Mental Health Counseling, Director of the Clinical Mental Health Counseling Program
Dr. Robertson is a nationally certified counselor and Maryland State Board Licensed Clinical Mental Health Counselor. She received her training as a clinical mental health therapist and as a counselor educator and supervisor from the CACREP accredited program in the Pastoral Counseling Department at Loyola University Maryland, in Baltimore Maryland. Dr. Robertson is a member of the American Counseling Association (ACA), the Association for Counselor Education and Supervision (ACES), and the Association for Spiritual, Ethical, and Religious Values in Counseling (ASERVIC). Her research and teaching interests include spiritually integrated counseling, religiousness and spirituality in the African American community, African American's amenability to mental health therapy, and an exploration and examination coping strategies employed when psychological distress is encountered among African Americans. In her recent dissertation study, she examined the impact of Religiousness, Spirituality, and Africultural Coping among African Americans when encountering psychological distress.
While Dr. Robertson has over five years of experience as a licensed mental health therapist and has worked diligently in the non-profit sector and private practice arena as a Director of Counseling and Therapist, respectively, prior to her transition into the mental healthcare profession, she was employed as an Information Technology (IT) professional for over 15 years in the food manufacturing industry.
In addition to her work as a licensed mental healthcare and Information Technology professional, Dr. Robertson is an ordained minister in the Baptist church affiliated with the National Baptist Convention, USA, Inc., and holds a Master of Divinity degree with an emphasis in Practical Theology from Regent University. Lastly, Dr. Robertson is a native of New Orleans, Louisiana and loves everything about the city, from its music and culture to its cuisine and undying support of the city's national sports teams.