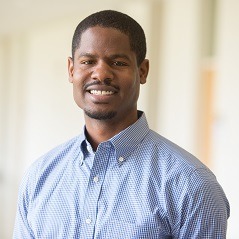 Justin West
Rev. Justin West is a Protestant Chaplain with A.M.E. Church as well as the Faith & Race Program Director at Xavier University in Cincinnati, Ohio. His area of study is African American preaching in the context of higher education. He's interested in exploring what African American preaching means in the rhetorical and social contexts of a university or college. For his dissertation, he's focusing on the university preaching of Howard Washington Thurman during his tenure as Dean of Marsh Chapel at Boston University in the middle of the 20th century.
Justin chose the CTS PhD program because it provided an opportunity to critically engage African American Preaching as a practitioner-scholar, belong in a cohort, and to study and write about the preaching of Howard Thurman—all under the guidance of Dr. Frank A. Thomas, whose scholarship and tenure as pastor he respects tremendously.
One of his recent accomplishments was the Doctoral Fellowship (The Forum for Theological Exploration) 2019-2020; 2020-2021.