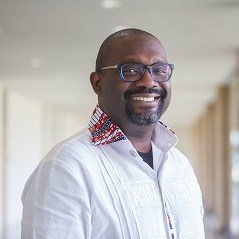 Bill Lamar
William H. Lamar IV is Pastor of Metropolitan African Methodist Episcopal Church in Washington, DC. He's studying the intersection of theology and homiletics. In the "dance between theology and rhetoric in Christian preaching," Bill is most attracted to theology and how it expands and contracts the homiletical imagination. For his dissertation, he is focusing on the theology of the cross and homiletics to answer the following:
How does the theology of the cross shape proclamation?
How does the theology of the cross form the ethical commitments of Christian communities?
Do congregational ethics change when different theologies of the cross undergird preaching?
Bill chose the African American Preaching and Sacred Rhetoric PhD program at CTS because the director, Dr. Frank A. Thomas, literally wrote the book on Black preaching.
Some of Bill's recent achievements include:
Preaching and lecturing at the Festival of Homiletics
Lecturing (via Zoom) in South Africa to honor the preaching and scholarship ministries of Dr. Allen Boesak
Writing a chapter on preaching in a forthcoming book published by Alban Press