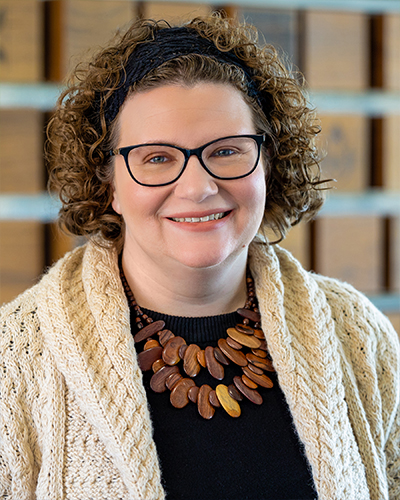 Amy Lindeman Allen
Indiana Christian Church Associate Professor of New Testament, Director of the Master of Divinity Program
Amy Lindeman Allen is Associate Professor of New Testament at Christian Theological Seminary and Book Review Editor for the seminary's journal, Encounter: A Journal of Theological Scholarship. She is an ordained minister in the Evangelical Lutheran Church in America (ELCA) and has served in congregations in Ohio, Pennsylvania, Nevada, and Indiana. She is currently serving as President for the professional organization, Lutheran Women in Theological and Religious Studies and preaching part-time at First Trinity Lutheran Church in Indianapolis, IN.
Allen is passionately committed to the transformative power of the gospel at the intersection of the church and world. She seeks to advance a scriptural vision for equality and justice for all people in both her professional and personal life and celebrates CTS' commitment to this vision as a central tenet of her teaching philosophy. Full of questions from an early age, Allen went to graduate school seeking answers, only to discover that there are few "right" answers, but an infinite supply of questions. Her greatest joy in teaching is exploring these questions together with students and, in the process, learning together the gift of mutual respect and compassion amidst difference.
Allen earned her doctorate in New Testament and Early Christianity from Vanderbilt University, where she studied with distinguished postcolonial scholar, Fernando F. Segovia. Under Segovia's mentorship, she learned the importance of engaging scholarship for the sake of the world and, as a young mother during her studies, developed an interest in reading scripture with and for children both past and present. Her book, For Theirs is the Kingdom: Children in the Gospel According to Luke (Lexington/Fortress, 2019) is a product of this exploration.
Presently, much of Allen's work continues to focus on this burgeoning field within ideological criticism called childist criticism, seeking to locate and reclaim the voices of children from the New Testament texts. She is an active member of the Children in the Biblical World unit of the Society of Biblical Literature and has published numerous articles, book chapters, and bibliographies on children and the New Testament.
Allen earned her bachelor's degree (Theology, Philosophy) from Texas Lutheran University (2003) and her Master of Divinity degree (Biblical Studies) from the Lutheran School of Theology at Chicago (2007). Prior to coming to CTS, Allen has taught in adjunct positions at Columbia Theological Seminary (Atlanta, GA), Truckee Meadows Community College (Reno, NV), and Lexington Theological Seminary (Lexington, KY). In addition to her work at CTS, she occasionally helps to facilitate lay ministry education through denominational programs associated with the ELCA and United Methodist churches in Indianapolis.
Employing her scholarship to continue to strengthen the intersections between the church and academy, Allen also regularly authors lectionary reflections and speaks at various congregational, conference, and synodical conferences and events. She is a regular contributor to the Politics of Scripture lectionary blog, Currents in Theology preaching helps, and annual Sundays and Seasons Preaching (Fortress Press) volumes. As an invited speaker, she has presented on a variety of topics related to the New Testament, church, and the world, including:
Children and the Realm of God
Unexpected Children in the New Testament (at the Nativity, among Jesus' Disciples, in Paul's Churches, and in Acts)
Children as Valuable and Vulnerable in the New Testament and Today
Portrayals of Jesus in Children's Bibles
Challenges and Possibilities in Christian Education
The Bible and Sexuality
Reading the Bible Amidst Difference and Challenges
Introductions to Paul and the Gospels in the Lectionary