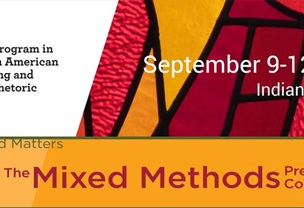 The Mixed Methods Preaching Conference
Rev. Dr. Frank A. Thomas and Christian Theological Seminary are pleased to announce the Inaugural Mixed Methods Preaching Conference — a new opportunity to truly learn about the art of preaching. We help preachers love their preaching, develop their preaching, and preach their very best.
The conference features:
Narrative, Womanist, & Expository Preaching Labs
Instruction from African American Preaching & Sacred Rhetoric PhD Students
Preaching Powerhouses — Dr. Otis Moss Jr., Dr. Teresa Fry Brown, Dr. Charlie Dates, Dr. Brianna K. Parker and Dr. Frank A. Thomas
LODGING
Lodging is reserved separately and is additional to conference fees.
Recommended hotels
Drury Plaza Hotel Indianapolis/Carmel
9625 N. Meridian St.
Indianapolis, IN 46290
317-587-2701
https://www.druryhotels.com/
DRURY CONFERENCE DISCOUNT: ID#2381210
Crowne Plaza Indianapolis Downtown/Union Station
123 W. Louisiana St.
Indianapolis, IN 46225
317-631-2221
www.crownplazaindydowntown.com
AGENDA
Monday Sept. 9
Conference Registration open 11:00 AM to 4:00PM
Pre-Conference Luncheon 11:00AM to 12:30PM
Conference Starts 1:00PM, Last Event 7:00-8:30PM
Tuesday Sept. 10
Conference Starts 8:00AM, Last Event 7:00-8:30PM
Wednesday Sept. 11
Conference Starts 8:00AM, Last Event 7:00-8:30PM
Thursday Sept. 12
Conference Starts 8:45AM and Closes at 3:30PM
Full Agenda at MixedMethodsPreaching.com
CONFERENCE OBJECTIVES
Mixed Methods Preaching Conference will help preachers:
Discover true joy, passion, enthusiasm, and fun through concrete instruction in homiletical method
Grow in their preaching through preaching assessments that move beyond the obligatory, "Nice Sermon" at the back of the church with critique from faculty and peers
Establish practical and achievable goals for their preaching
Correct any perceived deficiencies in preaching training
Enhance preaching fundamentals, such as centrality of the Biblical text, sermon structure, delivery of the sermon, and the ever important close of the sermon
Connect preaching and the preacher's spiritual formation particularly in seasons of spiritual drought, church conflict and personal/family crisis
CONFERENCE FORMAT
Mixed Methods Preaching Conference offers:
Attendees' exposure and interaction with three homiletics preachers and teachers, plus accomplished Conference Faculty
Three sermons, three interviews with sermonic preachers, and three lectures on preaching from Conference Faculty
Small group preaching lab where students can offer sermons for critique (only those that desire to preach will preach)
The opportunity for each attendee to develop their own response to these four critical questions:

What is my preferred preaching method?
How can I improve my preaching method?
How can I build a network of feedback to continue improvements in preaching?
When do we know preaching is successful?
For More Information
Please email phdprogram@cts.edu or call 317-931-2319.
Conference website: https://www.mixedmethodspreaching.com/