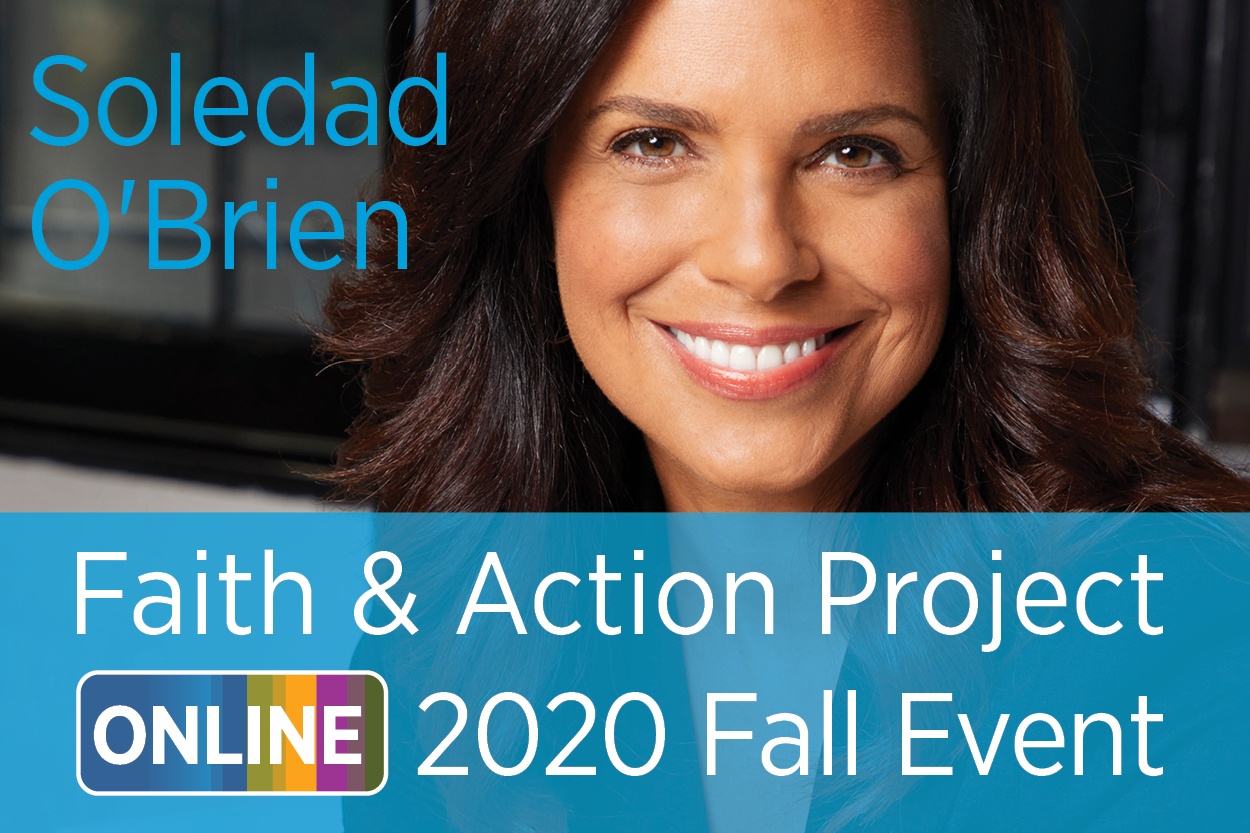 Faith & Action Project Fall Event: Examining Current Crises and Poverty
What have we learned? How can we apply it? How have our nation's recent racial and healthcare crises affected the fight to end poverty? What have they taught us about our nation and our community? And how can we use those lessons to strengthen poverty-mitigation efforts?
Join us online on Sept. 30 at 12 noon (EDT) as we address these and other pressing questions with national and local leaders in the drive for justice and an end to poverty.
The evening will begin with award-winning journalist, documentarian, and author Soledad O'Brien in conversation with Dr. Leah Gunning Francis, dean of faculty at Christian Theological Seminary. The co-founder of a foundation that mentors and funds college tuition and expenses for minority women from low-income families, O'Brien will share her insights about how what's happening in our country today creates an opportunity to address poverty and race in a deeper way.
Following this conversation, Dr. Gunning Francis will moderate a panel of local leaders discussing Central Indiana antipoverty efforts and the barriers that must be overcome to free people trapped in poverty in our city. Local panelists will be:
Dr. Patricia Payne, Director of the IPS Racial Equity Office and the Crispus Attucks Museum
Tony Mason, President of the Indianapolis Urban League
Yecenia Tostado, Executive Director of Project Azul
Speaker Bios
Soledad O'Brien is host of the show Matter of Fact with Soledad O'Brien and has established herself as one of the most recognized names in broadcasting by telling the stories behind the most important issues, people and events of the day. A champion of diversity, she gives voice to the underserved and disenfranchised through her Emmy-winning reporting and acclaimed documentary series, Black in America and Latino in America.
O'Brien is also a contributing editor and correspondent for PBS NewsHour and HBO's Real Sports with Bryant Gumbel. In 2010, she wrote a critically acclaimed memoir The Next Big Story: My Journey through the Land of Possibilities, which chronicles her biggest reporting moments and how her upbringing and background have influenced these experiences. A Harvard University graduate, O'Brien came to CNN from NBC News, where she anchored the network's Weekend Today.
O'Brien and her husband, Brad Raymond, started PowHERful Foundation, a nonprofit organization that helps to bridge the gap of opportunities for young minority women from low-income families in order to allow them to attend college with financial assistance, mentoring and holistic support.
Dr. Leah Gunning Francis is vice president for academic affairs and dean of faculty at Christian Theological Seminary. She also is author of Ferguson and Faith: Sparking Leadership and Awakening Community. For the book, she interviewed more than two dozen clergy and young activists who were involved in the movement for racial justice after Michael Brown Jr., an 18-year-old Black man, was fatally shot by a white officer. She wrote the book while serving as the associate dean and an assistant professor at Eden Theological Seminary in St. Louis.
Dr. Gunning Francis has served an adjunct professor for the Methodist Theological School, and provided pastoral leadership for congregations in Georgia, Illinois and Ohio. She earned a bachelor's degree from Hampton University; a masters of divinity degree from the Candler School of Theology at Emory University; and a doctorate degree from Garrett-Evangelical Theological Seminary. She and her husband, Rev. Rodney Francis, have two sons.
Dr. Patricia Payne has served Indianapolis Public Schools (IPS) for more than 58 years and is currently the Director of the IPS Racial Equity Office and the Crispus Attucks Museum. She taught second grade in IPS from 1962 until 1987, when she was appointed to design and direct the IPS Office of Multicultural Education. Dr. Payne served as President of the Indianapolis Education Association and the National Education Association Black Caucus. She is the recipient of numerous local, state and national awards including the distinguished Sagamore of the Wabash from the state of Indiana, the Carter G. Woodson Award and the H. Council Trenholm Award from the National Education Association and the Sankofa Award from the NAACP, Indianapolis Chapter. Dr. Payne serves on the boards of Flanner House, Indiana University Alumni, Martin University and the Indianapolis Public Library. She earned her Bachelor's Degree from Indiana University, Bloomington and her Master's Degree and Administrative License from IUPUI. She received an Honorary Doctorate of Humane Letters Degree from Martin University.
Tony Mason serves as President and CEO of the Indianapolis Urban League, which, under his leadership, has expanded its programs and services in a variety of ways, including becoming a Center for Working Families, adding technical training and certification programs, growing the Project Ready College and Career Readiness Program, and increasing health and wellness services. Prior to joining the Indianapolis Urban League, Tony served as the Relationship Development Director for Companies with A Mission (now known as trueU), and Senior Vice President of the 2012 Indianapolis Super Bowl Host Committee, where he was responsible for providing administrative oversight and staff support for the Near Eastside Legacy Project and various community outreach efforts. Previously, he served as the Executive Director of the Circle City Classic. Tony earned his undergraduate and graduate degrees from Miami (OH) University.
Yecenia Tostado is the executive director of the Project Azul Foundation, a nonprofit that provides individuals from underserved communities with the flexible training and financial assistance needed to transition from unemployment and underemployment into full-time careers offering higher wages, access to benefits and a pathway to career advancement. Prior to this role, Yecenia served as the Associate Director for Indy Achieves, an initiative by Mayor Joe Hogsett to increase the percentage of residents in Marion County with a high-quality postsecondary credential to 65% by 2027. She was part of the founding team that implemented and launched the program. An alumna of the FBI Citizens Academy and a graduate of the Stanley K. Lacy Executive Leadership Series Class XLIII, Yecenia earned her bachelor's degree in psychology and Spanish and master's with a dual concentration in policy analysis and urban sustainability from Indiana University.