F&A Grant Process Informs Drive to Serve LGBTQ+ Youth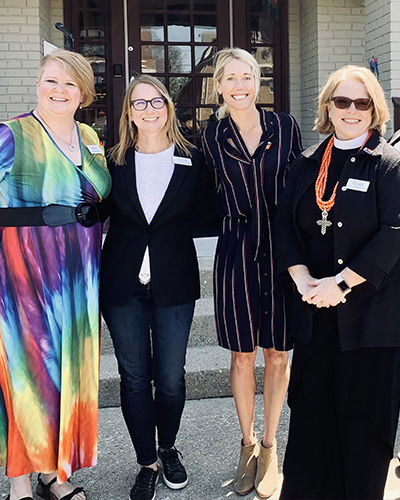 While receiving a Faith & Action Grant provided an obvious boost to Trinity Haven's financial resources, board member Leigh Ann Hirschman says the impact of the grant goes well beyond money.
From the grant application process to the application of the funds, it was the experience of participating in the program that might have delivered the greatest value, Hirschman said recently.
A housing and support program for LGBTQ+ youth experiencing housing instability, Trinity Haven received a $20,000 Faith & Action Grant in 2017, the first year the grants were awarded. Opening in early 2021, Trinity Haven welcomes youth between the ages of 16 and 21, who live at the home for up to two years and receive services designed to equip them to move on to safe and stable independent housing with the ability to sustain that housing.
With the grant funds, Trinity Haven was able to hire a project manager that made it possible to launch Trinity Haven and to design its complementary host home program, which provides shorter-term housing in the homes of host families.
"Without [the grant], it is hard to imagine how Trinity Haven could have ever been launched," Hirschman said.
But the grant program started paying off long before the grant was awarded. "Going through the rigorous grant application was actually quite instructive for us," Hirschman said, "because it helped guide some of our initial planning and research." She also credited the process with connecting the program, which was conceived by parishioners of Trinity Episcopal Church, with community supporters and collaborators.
Another wave of impact came when the award was announced. "There was a high level of community credibility around that grant, so it was easier for people and organizations to put their trust in us after we won the grant," Hirschman said. That credibility helped the organization attract additional support from throughout the community, a process that snowballed into bigger and bigger impact.
Overall, Hirschman said, the grant program has been a learning process that not only gave Trinity Haven the resources to grow but also equipped the people involved with knowledge they might not have achieved otherwise. Asked to highlight lessons learned for others, Hirschman offered the following:
Collaborate. Mission-focused nonprofit organizations – and, perhaps, churches in particular – often think they have to go it alone, but Hirschman said she believes that going through the grant process helped Trinity Episcopal Church see that it is possible for a program to receive wider community support. "We're all stronger together," she added.
Go boldly. You won't always feel prepared for the challenges ahead of you, but, with the support of the community, you can rise to overcome them.
Embrace your challenges. As a young project, Trinity Haven had to learn a lot in a hurry, and it faced a number of challenges – including delays created by the pandemic. In the end, however, the challenges were galvanizing for the initiative, Hirschman said, adding "We are stronger for the obstacles we have overcome."
Trust your team. As Trinity Haven started to gain its footing, Trinity Episcopal parishioners turned over more and more control to its staff and board. The parishioners remain involved, but Hirschman said they "have had the courage and willingness to let go."
Don't limit your vision. "It's pretty incredible to think that a $20,000 grant and a good idea eventually became millions of dollars and community support and two programs that are successfully serving some of the most vulnerable people in our city," Hirschman said., adding, "Have courage, have faith, be prepared to undertake a lot of hard work, and go with God."