Alum Shares: "CTS was another example of a safe, welcoming place where my faith could grow, and my love of diversity was magnified."
After years of navigating questions pertaining to identity, vocation, and church community, Rev. Allan Wallace's journey eventually led him to CTS and to a ministry of care and belonging. Now a part of the Alumni Board, he is excited to give back to the seminary community that gave so much to him.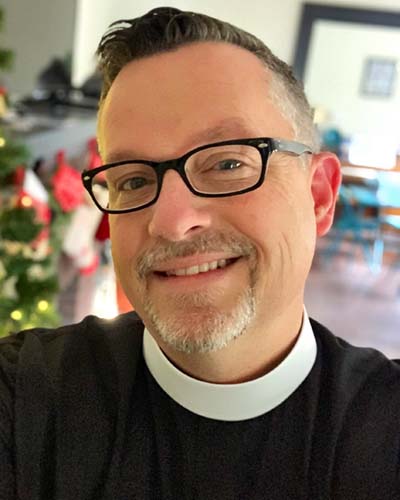 Wallace was born in Greenfield, IN, and divided most of his childhood between Arkansas and the Midwest. Although his family wasn't especially religious, Wallace grew up Southern Baptist, often attending church with friends. Over time, he struggled increasingly with his faith, as he tells it, "because I knew I was gay since about the second or third grade. However, I denied it," he said.
Wallace moved to Indiana to attend college, where he later married and had a son. "I did my best to live the American dream. However, I could not make my wife happy, because I was not authentically myself," he said. After a divorce and the time necessary to reconcile his faith, he found a home in the Episcopal Church, "which accepted me for me."
After becoming more involved and learning more about the church and its theology, Wallace began to feel a call to ministry. "Over time, I wanted to help others who have been hurt by the church or in the name of their faith, to also find peace and reconciliation," he explained. "Finally, I gave in and thankfully found myself at CTS."
Applying to CTS made it possible for Wallace to attend seminary and remain close to his son, and a generous scholarship allowed him to attend without the burden of significant financial strain.
"CTS was another example of a safe, welcoming place where my faith could grow, and my love of diversity was magnified," Wallace said. Taking classes with fellow students from different faith traditions allowed him to understand the pain and scars from his own past. Looking back, he said, "I was supported by the student body, faculty, alumni, and especially my Discipleship Project cohort as I grew into my faith as my authentic and true self."
After graduating with an MDiv in 2020, Wallace was ordained in the Episcopal Church and has since been serving at St. Francis In-The-Fields Episcopal Church in Zionsville as a Curate. His ministry focuses on Christian formation and outreach, and he also assists in worship, preaching, and pastoral care.
Now happily married to his husband, Amilcar Recarte, Wallace's journey has led him to reconnect with the seminary. "CTS is a resource and a safe place for continued growth, where I can maintain old relationships and establish new ones. By serving on the Alumni Board, I stay connected," he explained. "CTS continues to be a place where I can support others on their journey and be supported as well."
Learn more about CTS's MDiv degree program here.