190 Congregations Awarded Lilly Endowment 2021 Clergy Renewal Program Grants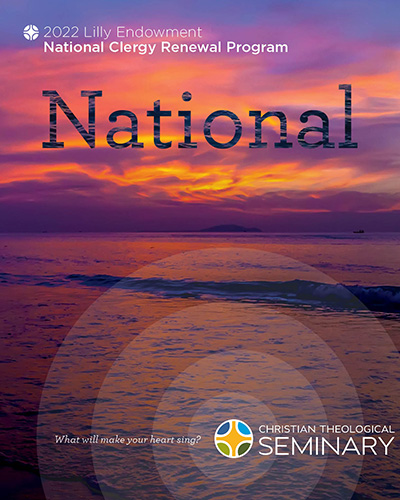 CTS recently announced that 190 U.S. congregations have been selected to receive grants through the Lilly Endowment 2021 National Clergy Renewal Program and the Clergy Renewal Program for Indiana Congregations. The grants help congregations honor and support their pastors by funding a respite from persistent ministerial duties and enabling pastors to engage in a period of extended reflection and renewal. Recipients may use the respite for activities that allow them to reflect and renew while engaging in activities such a travel, scholarly research or immersive experiences with different cultures and traditions.
"Pastors play a critical role in nurturing and guiding their congregations' work in the Christian tradition, while tending to the soul and psyche of individual members within the congregation," says Christopher L. Coble, the Endowment's vice president for religion. "These grants facilitate an opportunity to celebrate pastors for their extraordinary service while making it possible for these men and women to step away from congregational demands and invest in rest and renewal. For more than two decades, these grants have shown that such respites support the vitality of pastors and reinvigorate their congregations as well."
Congregations in the 2021 programs represent diverse Christian traditions, including Roman Catholic and Eastern Orthodox parishes and congregations from more than 24 Protestant denominations. Bringing a collaborative element to the grant program, congregations and their pastors worked together to determine how the pastors will use the grants to replenish, restore and renew their ministries.
Pastors may also use time away from their congregations to explore new spiritual disciplines, invest in focused time with loved ones and engage in immersive experiences that enhance their enthusiasm for preaching, ministry and leadership.
Popular activities selected by previous grant recipients include domestic and international travel and encounters with nature. Activities have facilitated enhanced cultural understanding, exploration of church heritage and other activities that aim to enrich pastors and their congregations.
Pastors also plan to use the awards to fund domestic and international travel. For example, one pastor will travel with family to visit his home country of South Korea – where he will continue his study of martial arts – as well as Israel, Asia Minor, and other biblical destinations. Another pastor will travel to Scotland to explore the historic scriptoriums on the islands of Iona and Lindisfarne and then prepare her own manuscript of the Sermon on the Mount incorporating her explorations of biblical text, Celtic lands, and personal history.
In addition to travel as a form of renewal, some pastors will use time away from their congregations to engage in new spiritual disciplines, focus on time with loved ones, and study topics that renew their excitement for preaching and congregational life. Activities for congregations include exploring their own spiritual stories, sharing meals together, focusing on intergenerational relationships, and engaging their local communities through service. Dr. Robert Saler, director of the Lilly Endowment Clergy Renewal Programs at Christian Theological Seminary in Indianapolis, noted that the grant programs integrate elements of support, trust and encouragement which are all indicators of healthy congregations. "The programs are engineered to honor an innate human need to balance active service to others with periods of reflection and renewal. Animated by a spirit of gratitude and generosity, this program provides a means for congregations to show appreciation for their leaders and actively invest in their pastors' health and energy for continued ministry," Saler says.
Since Lilly Endowment introduced the Clergy Renewal Program for Indiana Congregations and National Clergy Renewal Program grants in 1999 and 2000 respectively, more than 3,200 congregations across the nation have participated in the programs. Congregations in the 2021 national program received grants totaling almost $9 million. The grants honor the immense amount of energy, time and leadership that pastors invest in their congregations.
Congregations were invited to apply for program grants of up to $50,000. The application process allows congregations to be actively engaged in designing and developing their pastors' renewal experiences. An inspiring element of the program is the ability for congregations to allocate up to $15,000 of the grant to fund interim pastoral leadership, as well as renewal activities within the congregation. Pastors' families can also participate in the renewal activities.
Christian Theological Seminary has administered the Lilly Endowment Clergy Renewal Programs since 2012. "As our nation and our world navigate complex health, environmental and geo-political threats, these grants enable pastors and their congregations to actively partake in the gifts of retreat and renewal that are so needed today," Saler says.
To see a full list of grant recipients, click here.
About Lilly Endowment Inc.
Lilly Endowment Inc. is an Indianapolis-based private philanthropic foundation created in 1937 by J.K. Lilly and his two sons, Eli and J.K. Jr., with gifts of stock in their pharmaceutical company. The Endowment exists to support the causes of religion, education and community development. Lilly Endowment's religion grantmaking is designed to deepen and enrich the religious lives of American Christians. It does this largely through initiatives to enhance and sustain the quality of ministry in American congregations and parishes. More information can be found at www.lillyendowment.org.