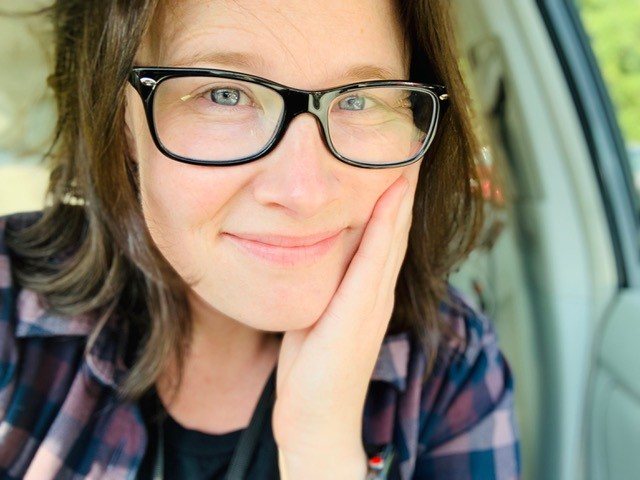 Much of MDiv/MTS student Cassidy Hall's adult life has explored the intersection of creativity and spirituality. As an outgrowth of her time at CTS and her own personal development and learning, she recently launched a new podcast and is preparing for the festival debut of a new documentary film.
While working as a filmmaker in Los Angeles, Hall became interested in attending seminary after taking adult education courses at her local church. At the suggestion of a friend who lived in Indianapolis, Hall looked into the degree programs at CTS, which offered the financial assistance she needed to fully engage an MDiv program. Entering as an artist and filmmaker with a hunger for theological education and spiritual growth, Hall said that she quickly found a home at CTS, whose "eclectic and ecumenical" faculty and staff "create a spaciousness for learning and individual development like no other academic institution I've ever been a part of."
Among the many formative experiences she has had at CTS—including courses with Prof. Bill Kincaid, Prof. Helene Russell, and Prof. Kimberly Russaw, along with her field experience as a student pastor at First Congregational UCC—Hall said that the Samuel DeWitt Proctor Conference and the Mixed Methods Preaching Conference have been "life-changing." She explained that her introduction to Black and Womanist theologies has been especially transformative, in particular the Womanist insistence on "the survival and liberation of all people."
Inspired by these experiences and what she has learned along the way, Hall launched a new podcast in February, Contemplating Now, which is being hosted by Christian Century. Having long been drawn to the contemplative life, Hall quit her job in 2011 and traveled to all 17 Trappist monasteries in the United States after reading Thomas Merton's New Seeds of Contemplation. Existing in what she refers to as the "white-contemplative world" for nearly a decade, Hall said that she became increasingly aware of how it too often "remains tethered to systems of oppression." Noting the influence of Barbara A. Holmes and Therese Taylor-Stinson, she explained that "the BILPOC contemplative expressions, and Black contemplative expression in particular, have helped me to understand the power of full embodiment in contemplative life when it comes to actions and the way one shows up in the world." As a response, Hall launched the new podcast, where she interviews scholars, mystics, and activists to discuss the intersection of contemplation and social justice.
Along with the podcast, Hall has been working on another project pertaining to spirituality and contemplation. As mentioned, Hall has been deeply influenced by the life and works of Thomas Merton, the prominent twentieth century Trappist monk and writer. Last year, she completed her film Day of a Stranger about Merton's years living in a hermitage, which will debut at a film festival in May.
Hall is now preparing for ordination in the UCC and considering further graduate studies. Reflecting on her time in seminary, she said, "CTS has taught me what it means to be an embodied person of faith—to be one whose whole life is reflective of one's learning, growth, and continued understanding. While I've never been one who can easily compartmentalize, I'm grateful that CTS welcomes the wholeness of its students (in all of our uniqueness) and values our growth, always making more room for our continual becoming."
Learn more about Cassidy Hall's podcast, film, and other work here.
Learn more about the degree programs at CTS here.